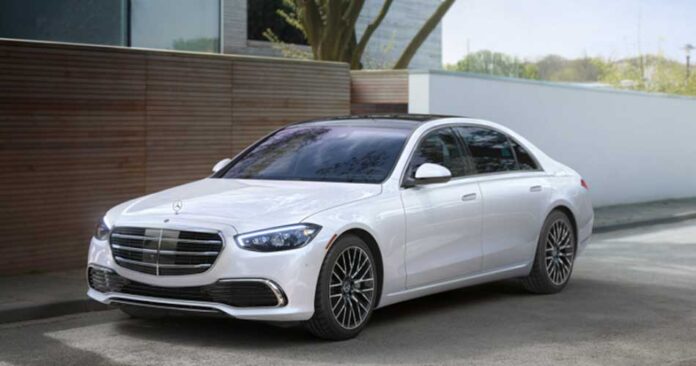 ALL New 2022 Mercedes Benz S class price in USA. Features, Specs, Review, and Variants.
What does S-Class mean for Mercedes?
The all-new S-class Mercedes Benz comes with signature details, majestic proportions, and a windswept sportiness design. The glowing Star stands above the iconic grille that looks like a source of inspiration for the cars.
The S Class is built with fine tailoring of leathers and vibrant wood as well as metal trim that offer a fresh look. For this, we need to thank the dedication to craftsmanship and detail. Every element from stitchwork to sculpting, switches to speakers produce a harmony of form and function.
Some interesting features include a selection of 64-color ambient lighting. One of the important features offered by the sedan is the new daytime brightness that lets lighting in a key location and also confirms climate adjustments, offers driving alerts, or aware passengers if they reach for a door handle while a vehicle is approaching.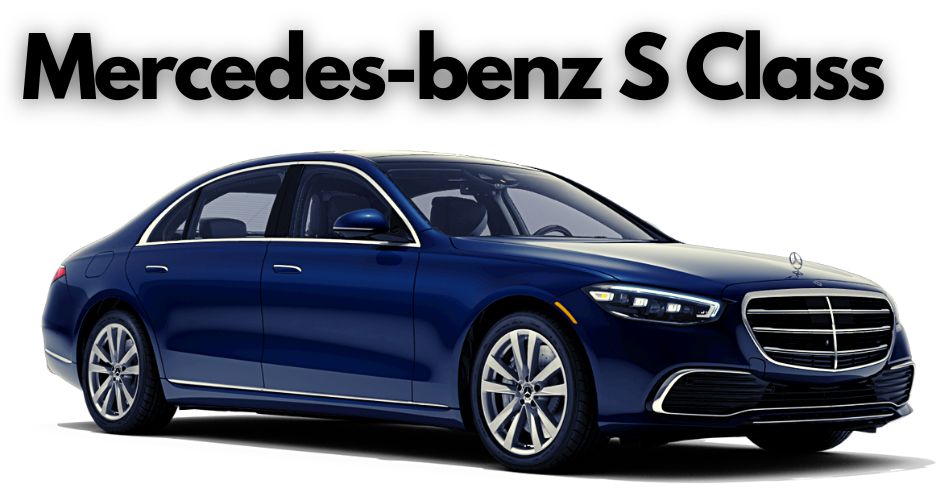 Why is the S-Class so special?
The Mercedes S-Class generally smooth-sailing driving experience is thanks in large part to Mercedes' mastery of its E-Active Body Control system, which not only tempers weight shifting but also aids in crash alleviation. The 2022 Mercedes-Benz S-Class claims the top spot in the super luxury car class, with premium interior quality, seating space and comfort, great driving dynamics, and cutting-edge tech and safety features.
The Mercedes Benz S Class is equipped with Standard Burmester 3D Surround Sound that offers excellent audio quality. In addition, the new 4D option integrates resonators into the seats for music you can experience.
The Sedan comes with a standard luxury line and an optional AMG line. The Standard Luxury Line styling includes crisp chrome accents and a choice of three 19-inch or 20-inch wheel options whereas the elegantly aggressive AMG Line and black-accented Night Package offer AMG® wheel options up to 21 inches.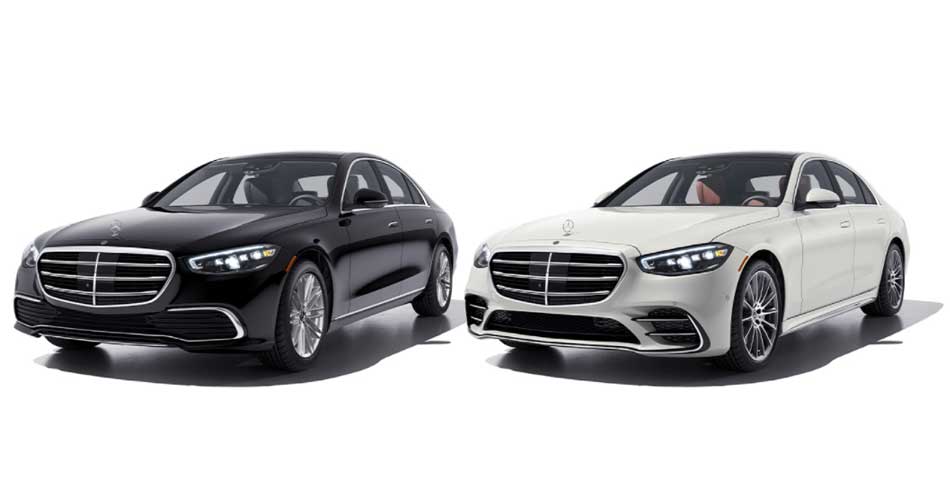 What is the Mercedes luxury line?
The Luxury Line of the S-Class Mercedes Benz indicates there is no such thing called as a 'base model' S-Class. This line offers various features including rapid-heating, massaging front seats, Air Balance, Cabin air-ionizer, and fragrance atomizer. The inside and outside looks of the Sedan are beautified with 64-color active ambient lighting and a multicamera Surround View System.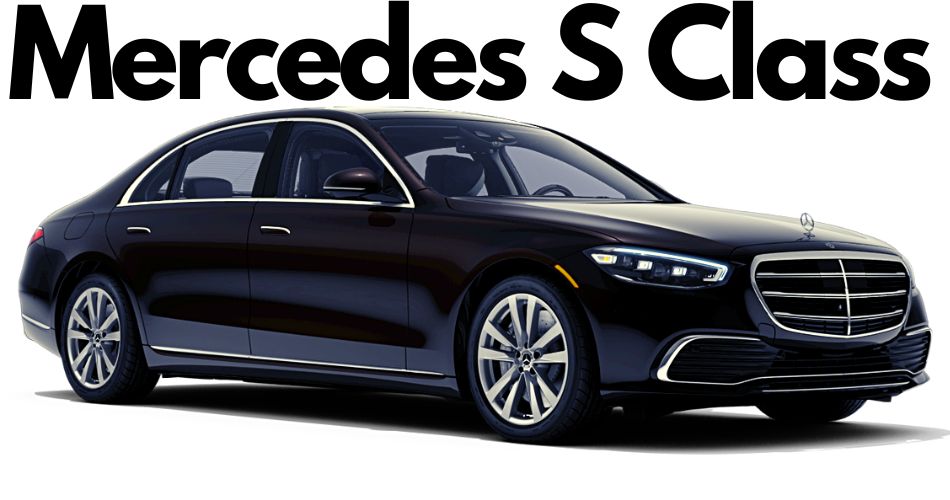 What is Mercedes AMG line package?
The AMG Line design comes with aggressively elegant AMG body styling along with a choice of AMG wheels. Besides, AMG floor mats and rubber-studded metal pedals offer more sporty detailing to the luxurious cabin. The AMG Line adds cosmetic differences designed to add to the overall look and feel of the car, while an AMG model features a high-performance engine designed with driving performance. This V8 sporty limo with a new hybrid engine is expected to produce up to 816hp.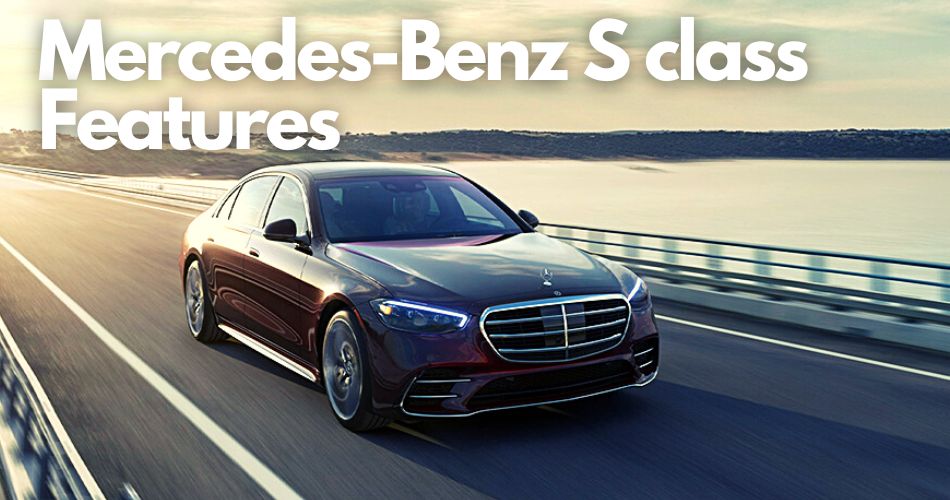 What are the key features of the 2022 Mercedes-Benz S-Class Sedan?
All-LED exterior lighting
The long-lasting and energy-efficient LED headlamps and taillamps are equipped on the S Class Mercedes Benz. These lights function with distinctive style and enhance elegance. The taillamps feature a wraparound horizontal design that flows with the trunk lid. LEDs also offer quicker illumination, offering other drivers more time to react to your brake lamps and other signals.
19-inch twin 5-spoke wheels
The S Class Mercedes Benz comes with five pairs of inward-tapering spokes that feature a classic silver finish and a recessed bolt circle. All-season Extended Mobility tires are fitted with sizable 19-inch wheels.
Panorama roof
The fully functional glass sunroof offers both front and rear-seat passengers the experience of sweeping skyward views. The front panel can be tilted up for ventilation or slide over the rear panel for an open-air feeling. The driver and each rear passenger can adjust the amount of sunlight entering the cabin with the dual interior power shades that are controllable.
Wood/leather steering wheel
The luxury of the S-Class Mercedes Benz is also characterized by the high-tech steering wheel. It's built with hand-finished Burl Walnut wood, Slate Poplar wood, or Black Piano Lacquer to match the cabin appointments.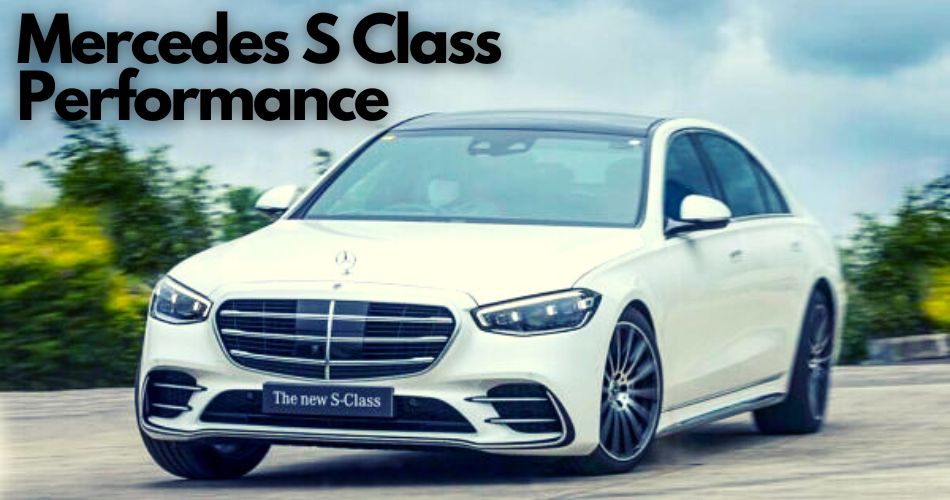 Is Mercedes S-class fast?
The inline-6 returning to the Three-Pointed Star characterizes the seamless power and natural balance. It depicts the Mercedes-Benz tradition with a technological leap forward. The engine with lightweight and fully beltless is electrified with an integrated starter generator that can supply up to 20hp and also allow fuel-free coasting and recapture energy during deceleration. The gas engine outputs 429 hp and 384 lb-ft of torque on its own with a twin-scroll turbo and electric auxiliary compressor for a swift response.
Mercedes-Benz offers the 2022 S-Class with three engine options, and all do an exemplary job of getting this big luxury sedan up to speed quickly. The inline-six feels punchy, and it can zip the S-Class from zero to 60 mph in just five seconds. The V8 and V12 engines quicken this pace to roughly achieving a top speed of 250 Kmph.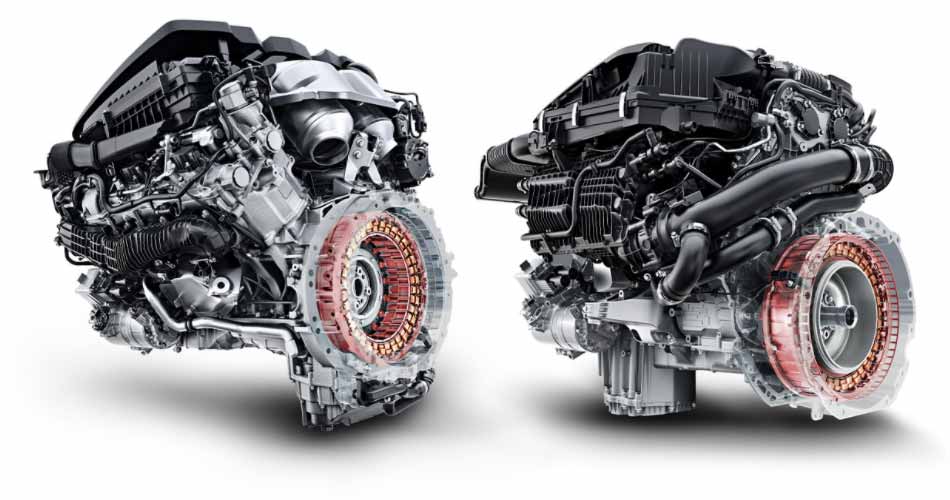 2022 Mercedes S Class Performance Features
The S Class Mercedes Benz is featured with a new generation of performance that pairs turbo and electric boost for more than 400 hp in every model. In addition, Torrential torque is precisely metered to all four air-suspended wheels for all-year, all-road confidence.
The ECO Start/Stop system is enhanced with the EQ Boost that executes Integrated Starter Generator to add torque electrically. The S 500's 429-hp inline-6 turbo is boosted by an electric auxiliary compressor. Twin turbos assist the S 580 V8 output 496 hp.
The Sedan is also equipped with a Rear-axle steering feature that assists in parking and city maneuvers. The rear wheels turn with the fronts for swifter lane changes or adapt based on driving dynamics for more stable handling at higher speeds.
You can opt for DYNAMIC SELECT drive modes with a few taps and achieve enhanced performance. The Sport mode allows sharpening of a 9-speed transmission, and suspension whereas the ECO mode eases up.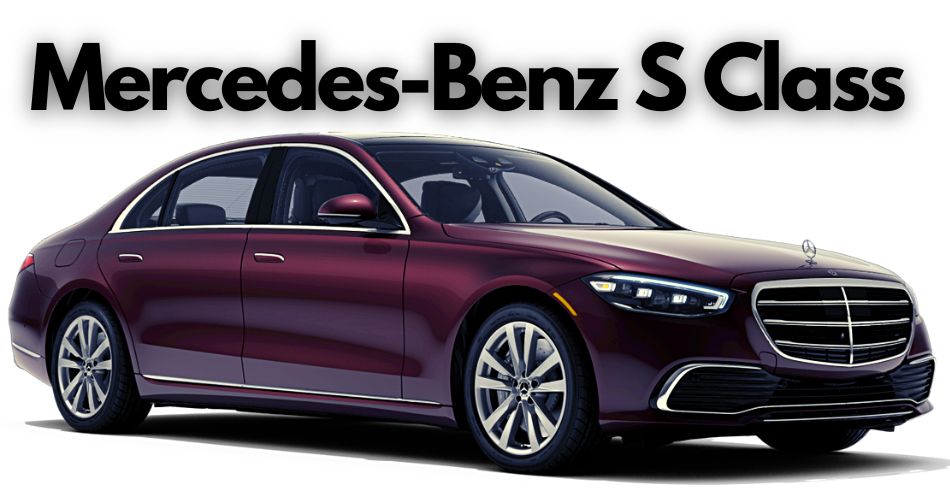 EQ boost-integrated starter-generator
The EQ boost-integrated starter-generator electrifies the inline-6 gasoline engine as it integrates with a 48-volt lithium-ion battery and power supply for formerly belt-driven components like the water pump and air-conditioning compressor, reducing weight and enhancing underhood packaging. In addition to boosting power and torque for an immediate response, EQ Boost assists in improving both performance and efficiency.
ECO start/stop system
The ECO start/stop system is known as a fuel-saving system that automatically shuts off the engine at stoplights and other idle situations. The engine instantly restarts as soon as the driver lifts off the brake for immediate acceleration response. The ECO Start/Stop system can also be shut off by the driver at any time.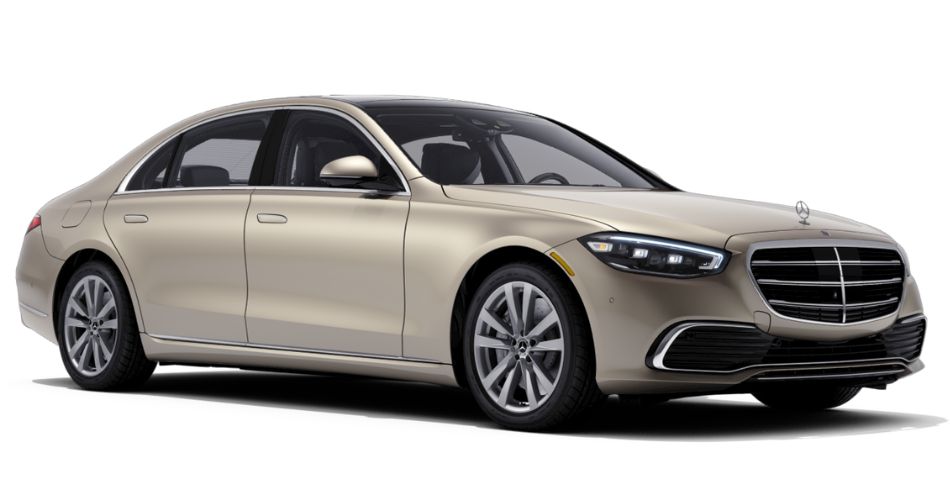 9G-Tronic automatic transmission
The 9-speed automatic transmission allows faster shifting of gears with a greater range of ratios and shorter steps between gears. The lighter and more versatile transmission enhances the riding experience, comfort, and also the fuel-efficiency. In addition, it delivers a more seamless execution of power. With a hands-on steering wheel, you can control all gear changes using the electronic selector and shift paddles. Besides, drivers can vary shift modes with the innovative DYNAMIC SELECT system.
4MATIC all-wheel drive
The 4MATIC all-wheel drive (AWD) drivetrain on your S Class Mercedes Benz offers confidence in any season. The 4MATIC AWD ensures you are always engaged and the torque is optimized to all-wheel. The AWD system on the S Class Mercedes Benz integrates with Electronic Stability Program (ESP) to offer optimum performance in corners and slippery conditions.
In addition, the AWD drivetrain collaborates with the 4-wheel Electronic Traction System (4-ETS) which monitors for the first sign of wheel slip and responds to ensure torque is sent to the wheels with the best grip, even if that's only one wheel.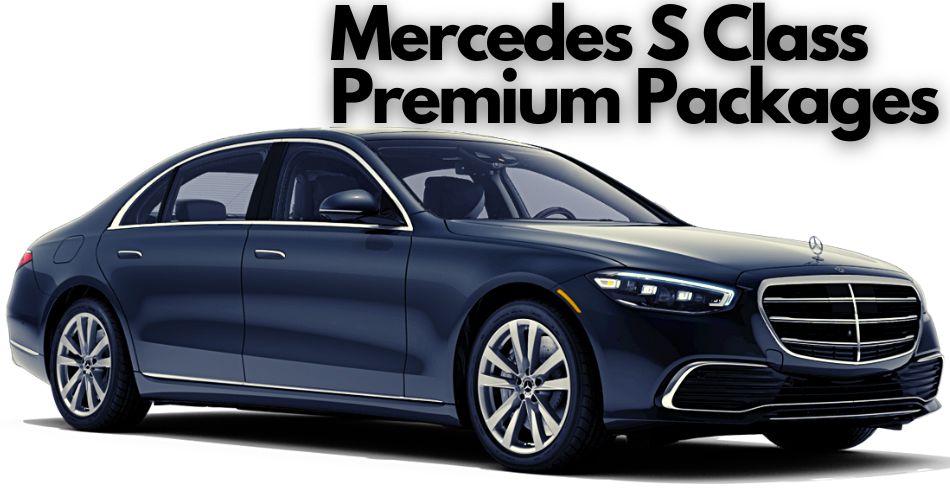 What is the premium package on Mercedes S-Class?
Heated 12-way power front seats with memory
Intuitive, and artfully sculpted, seat-shaped controls help you and your front passenger finds your ideal seating positions with 12-way power adjustment, including cushion length. A memory system for each front seat recalls four stored seat positions with the touch of a button. The driver-seat memory also includes the power steering column and side mirror positions. Standard heating with automatic timed step-down adds soothing, controlled comfort in cool weather.
Air Balance cabin-air purification system
The Air Balance system teams on the S Class Mercedes Benz activated charcoal filtration with an ionizer that uses an electrical charge to create the same fresh-air sensation you experience after a summer storm. Airborne impurities and odors are virtually eliminated from the cabin to provide air quality that's more enjoyable and healthier, especially for those with asthma or allergies.
KEYLESS-GO with seamless door handles
A leap in ease and efficiency pioneered by Mercedes-Benz, KEYLESS-GO lets you unlock, start and drive away without removing the SmartKey from your pocket or purse. You can lock and unlock the doors with a touch of the exterior handles. New seamless door handles retract flush with the bodywork, yet can extend to greet your hand as you approach. The handles can automatically deploy in special situations, such as after an accident.
3 years of Mercedes me connect services
Mercedes me connect gives you remote access to your car via a smartphone Mobile App. Features include Remote Start, door locking/unlocking, vehicle monitoring, stolen vehicle tracking, and a locator when you park. You can enjoy HERE™ Local Search and can send destinations to your car's available MB Navigation system. Three years of connecting services are included for no charge with your new Mercedes-Benz.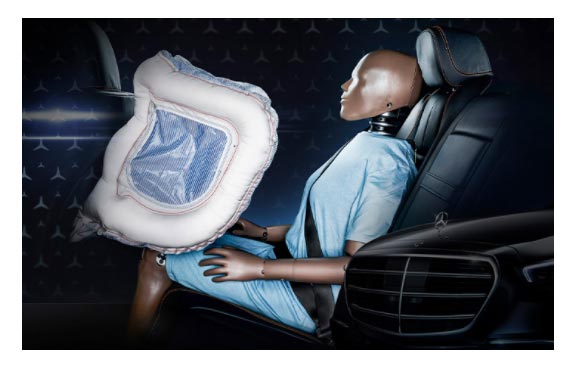 Is the Mercedes S-Class the safest car?
The New Mercedes S-Class Could Rank Among the Safest Cars Ever Made. Mercedes-Benz's all-new flagship sedan will launch in September, and pack some revolutionary safety technology. The folks over at Mercedes-Benz tend to be at the forefront of automotive technology, especially when it comes to safety. The S-Class is laden with safety tech and should be bullet-proof mechanically. As ever, the Mercedes S-Class is loaded with the most advanced safety features, and we'd be amazed if it came out of the Euro NCAP independent crash testing with anything less than excellent scores.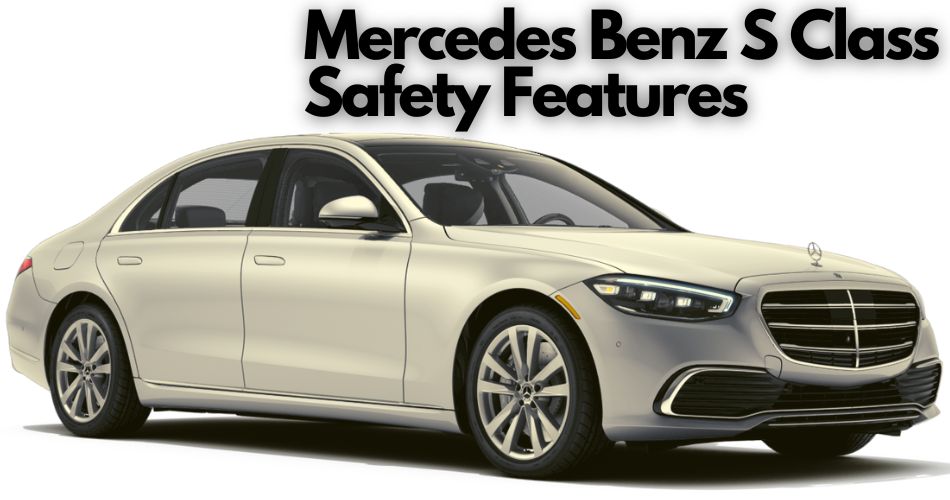 2022 Mercedes-Benz S-Class Safety Features
Car-to-X Communication
The S Class Mercedes Benz is featured with an industry-leading Car-to-X communication that can automatically alert a central notification system of certain dangers from detected wheelspin to the use of hazard flashers or even windshield wipers. The system can then alert other drivers with Car-to-X via in-dash displays or announcements, allowing precautions to be taken before reaching the hazard.
Active Brake Assist
Radar-based technology can alert you if you're approaching a vehicle ahead, or even some stationary objects, at a speed and distance that suggest a collision, is likely. As soon as you start to brake, it can automatically provide an appropriate level of braking to help prevent a collision or reduce its severity. If you fail to respond, it can also initiate braking automatically at a range of driving speeds. The system can also detect and react to crossing pedestrians at typical city speeds.
Active Brake Assist with Cross-Traffic Function
At speeds up to 75 mph, radar and advanced cameras scan ahead to help detect a potential collision with vehicles approaching or crossing from either side of an intersection, or with a pedestrian in the car's path, even when signaling for a turn. When the driver responds to the alert by braking, it can increase the brake force to help prevent such an accident or help reduce its severity. If the driver fails to brake, it can automatically initiate braking.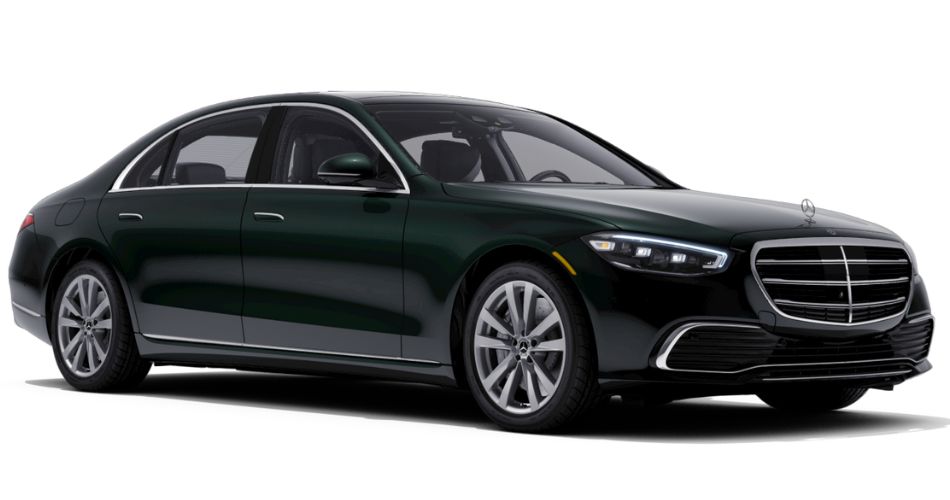 GUARD 360 antitheft alarm system
The antitheft alarm system on your S Class Mercedes Benz can arm automatically when you lock your Mercedes from the outside. It can sound the horn and flash the exterior lights if a door, trunk, or hood is opened while armed. New GUARD 360 can take photos with the Surround View cameras if it detects movement of or in the vehicle. You can also sound the alarm via your SmartKey remote when you're within range of your vehicle.
Active Emergency Stop Assist
While Active Distance Assist DISTRONIC provides an extraordinary degree of driving ease when cruising, the driver must still remain able to intervene at any time. For this reason, if innovative capacitive touch technology detects the driver's hands off the steering wheel for a prolonged period, it can provide both visual and audible alerts. If the driver does not respond, DISTRONIC can reduce the cruising speed in stages, all the way to a stop, unless the driver resumes control of the vehicle.
Active Steering Assist
Active Steering Assist can be engaged whenever you're using DISTRONIC adaptive cruise control. Using cameras and other sensors to detect lane markings, guardrails, and other vehicles, Active Steering Assist helps the driver keep the vehicle centered in its lane while cruising, even in gentle curves. When lane markings aren't visible, they can even follow the vehicle ahead. Enhancements can improve lane-centering on highways or follow the road edge on non-striped roadways.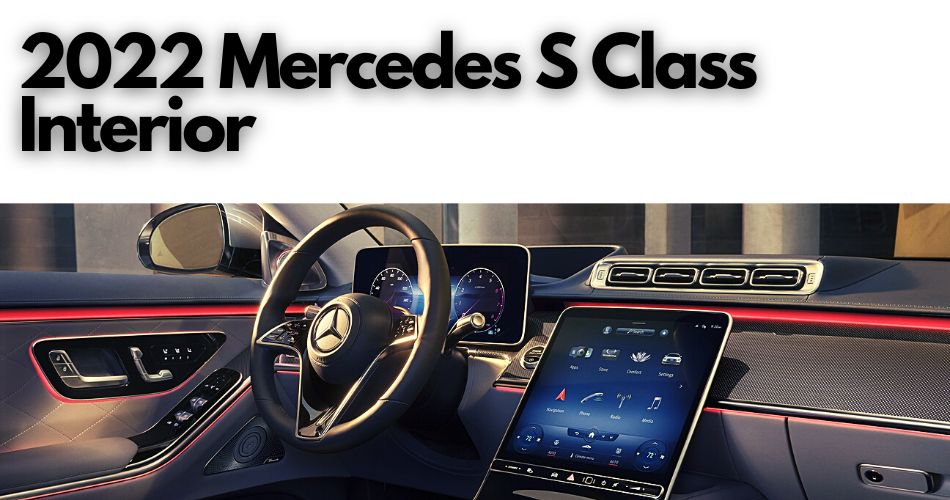 2022 Mercedes Benz S class interior
The manufacturing company quotes, "With a new S-Class, the sun rises on a new era for the automobile. More thoughtful of its passengers. More in tune with its driver. More protective of those within or even near its elegant presence. Everything that matters most to you, matters more than ever to the S-Class."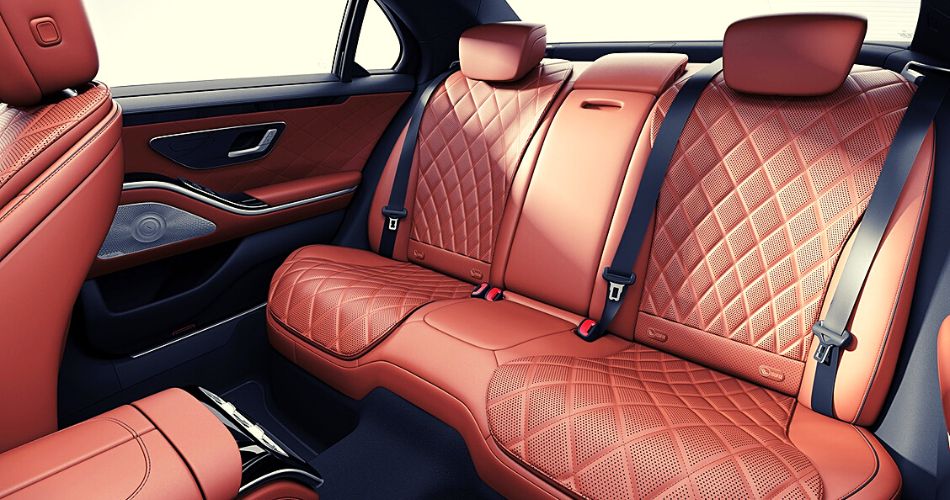 The S Class Mercedes Benz is featured with the Mercedes-Benz User Experience (MBUX) which is more intuitive and intelligent. Besides, the Sedan comes with an advanced multiscreen, multitouch digital cockpit that recognizes your fingerprint and also responds to your natural voice.
Focusing on the technological features, a 12.8-inch Organic LED (OLED) touchscreen is the centerpiece of up to five screens that offers full entertainment. You can personalize 800 settings, in the car or from your phone, in up to seven user profiles.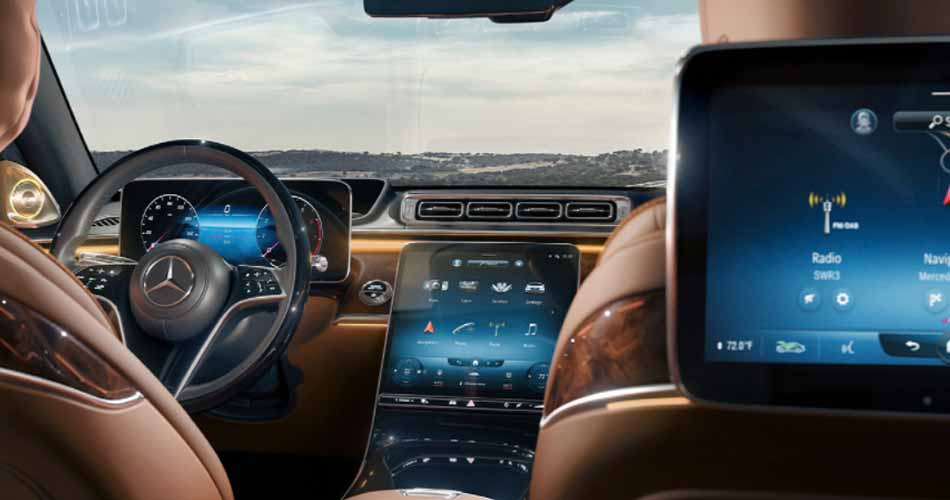 What are Mercedes media display features?
12.8-inch OLED touchscreen central multimedia display
12.3-inch digital instrument cluster
Steering wheel with Touch Control Buttons
Mercedes-Benz User Experience (MBUX)
Voice Control with Natural Language Understanding
"Hey, Mercedes" keyword activation
MB Navigation
MBUX Augmented Video for Navigation
Biometric authentication
Burmester 3D Surround Sound system
Over-the-air software updates
No-charge online navigation map updates for 3 years
Route-based Speed Adaptation
Wireless Apple CarPlay
Wireless Android Auto
Online Music Streaming
Bluetooth audio streaming
Multiple USB-C ports
HD Radio receiver
SiriusXM 6-month All Access trial
3 years of Live Traffic Information
Near-Field Communication (NFC) technology
Inductive wireless charging with NFC pairing
Hands-free Bluetooth interface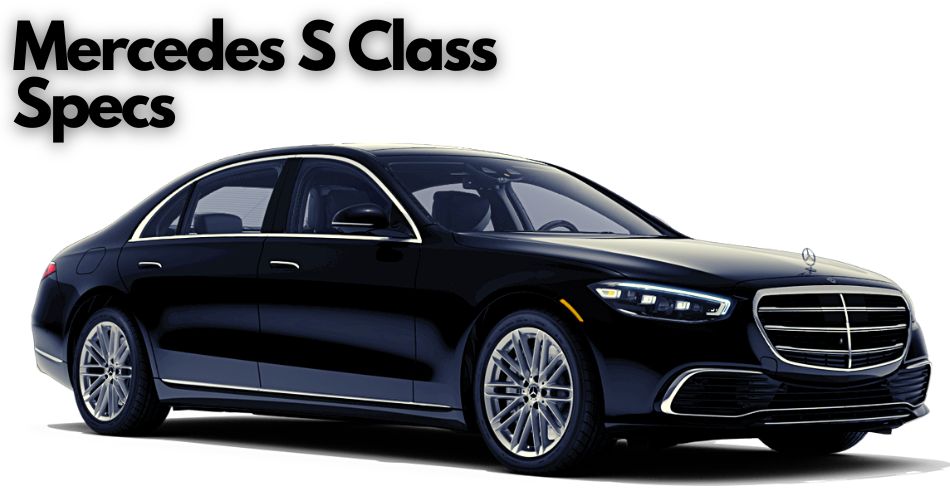 2022 Mercedes Benz S Class Specs
| | |
| --- | --- |
| TECH SPECS | Mercedes Benz S Class |
| Engine Type | 3.0L inline-6 turbo engine with EQ Boost and electric auxiliary compressor |
| Power | 429 hp @ 6,100 rpm |
| Torque | 384 lb-ft @ 1,800-5,800 rpm |
| Compression ratio | 10.5:1 |
| Construction | Diecast alloy block and head |
| Fuel requirement | Premium unleaded gasoline |
| Fuel capacity | 22.2 gal |
| Automatic transmission | 9G-TRONIC 9-speed |
| Drive configuration | 4MATIC® all-wheel drive |
| Acceleration | 4.9 sec (0-60mph) |
| Suspension | Adaptive, self-leveling 4-wheel multilink with AIRMATIC® |
| Steering Type | Rack-and-pinion with electromechanical power assist |
| Wheels | 19-inch twin 5-spoke (8.5×19 front and rear) |
| Tires | 255/45R19, all-season Extended Mobility |
| Cargo capacity | 13.8 cu ft |
| Curb weight | 4,740 lbs |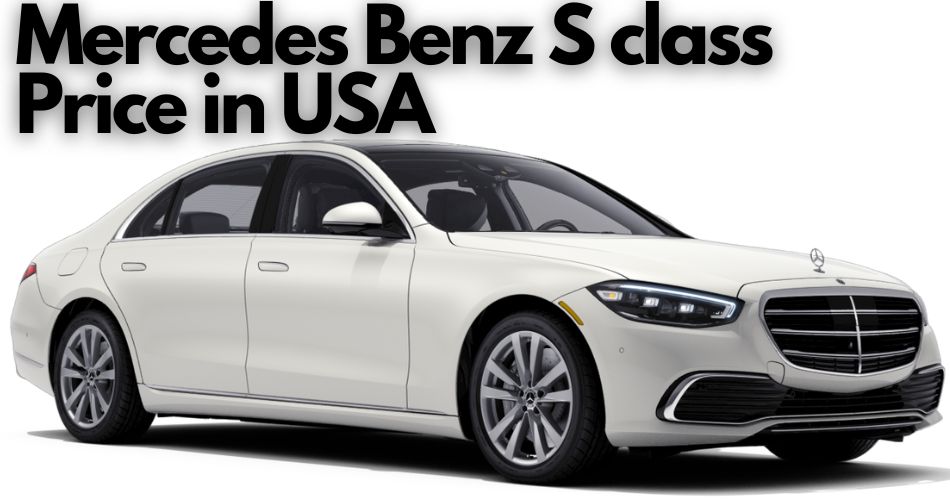 How Much Does the Mercedes-Benz S-Class Cost in USA?
| | |
| --- | --- |
| Mercedes Benz S class Variants | 2022 Mercedes Benz S Class price in USA |
| Mercedes Benz S 500 4MATIC Luxury Line | $111,100 MSRP |
| Mercedes Benz S 500 4MATIC AMG Line | $115,400 MSRP |
| Mercedes Benz S 580 4MATIC Luxury Line | $117,700 MSRP |
| Mercedes Benz S 580 4MATIC AMG Line | $122,000 MSRP |
| Mercedes Benz S 580 4MATIC Executive Line | $129,100 MSRP |
Please note that the above-given 2022 Mercedes Benz s class price in USA is subject to change and is for reference purposes only.
FREQUENTLY ASKED QUESTIONS
How much is the new S-Class cost?
The 2022 Mercedes-Benz S 500 has a base price of $111,100 MSRP. The S 580 trim starts at $117,700 MSRP. S class is more expensive than other model line variants in the super luxury car class, and it only goes up from there.
Is Mercedes S-Class A luxury car?
The Mercedes-Benz S-Class, known as the "special class", is a series of full-sized luxury sedans, and limousines. Mercedes S-Class has some of the most advanced technology ever seen in a luxury car. From its epic infotainment system, and premium interior to its cutting-edge safety technology.
What does 4MATIC mean on Mercedes?
The Mercedes-Benz 4MATIC is an all-wheel drive system that has a lightweight drivetrain that provides a better driving experience, traction, and smoother handling on any road condition.