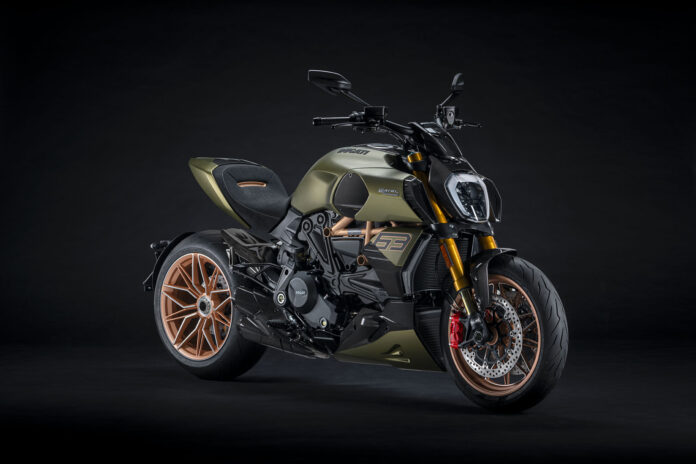 The Italian superbike manufacturer Ducati has revealed a limited Ducati Diavel 1260 Lamborghini which is expected to be available for purchase from January 2021. The Diavel 1260 model was launched by the company a couple of weeks ago.
The Diavel 1260 Lamborghini Edition is manufactured under the inspiration of a limited edition Lamborghini Sian FKP 37 hybrid supercar. The power performer bike is available in Gea Green color which looks exactly like the FKP 37 supercar.
The Lamborghini has planned to produce only 63 units of the Sian hybrid supercar however, the Ducati company will sell 630 units of the special Diavel 1260 edition. Both the companies, Ducati and Lamborghini have collaborated and worked efficiently to produce a worthy and premium product.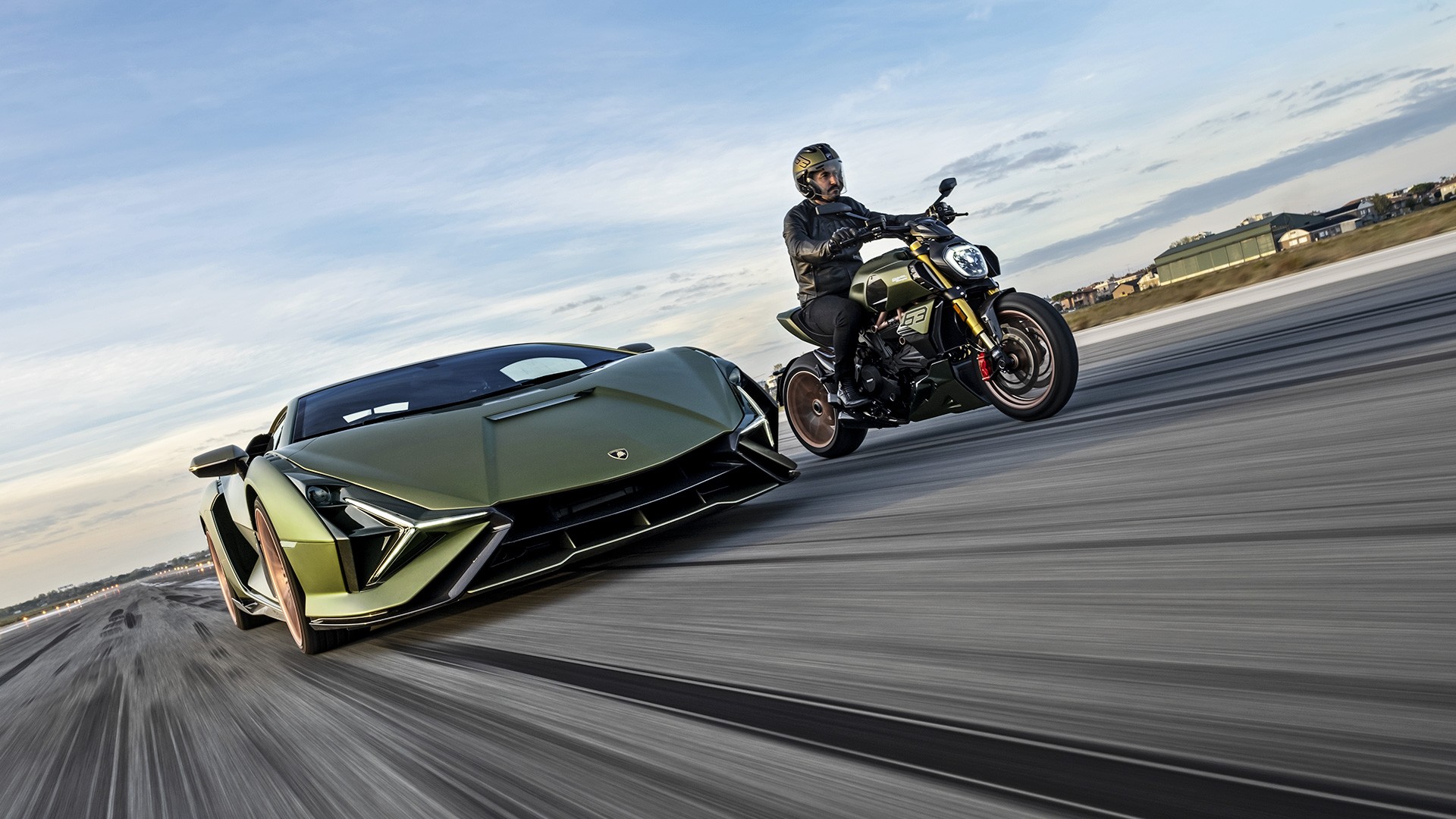 Ducati and Lamborghini are Italian excellences that share values ​​such as sportiness, attention to design, and meticulous devotion to detail. Starting from this common basis, the Ducati designers have chosen to be inspired in this special project by one of the most fascinating models of the Sant'Agata Bolognese company, the Lamborghini Siàn FKP 37.
DUCATI DIAVEL 1260 LAMBORGHINI EDITION FEATURES
The Ducati Diavel 1260 is built with golden USD forks giving it a more premium look. The alloy wheels have got golden forged rims whereas the frames have shades of gold in them. Besides, the bike is built with radiator covers, air intakes, fuel tank cover, mudguards, muffler, and seat cover inspired by the Lamborghini Sian FKP 37 supercar.
Carbon fiber element has been used to build the dashboard cover and headlight frame. The Y-shaped designs in the FKP 37 supercar have been replicated in the Diavel's Y-shaped cutouts in the saddle and hexagonal muffler.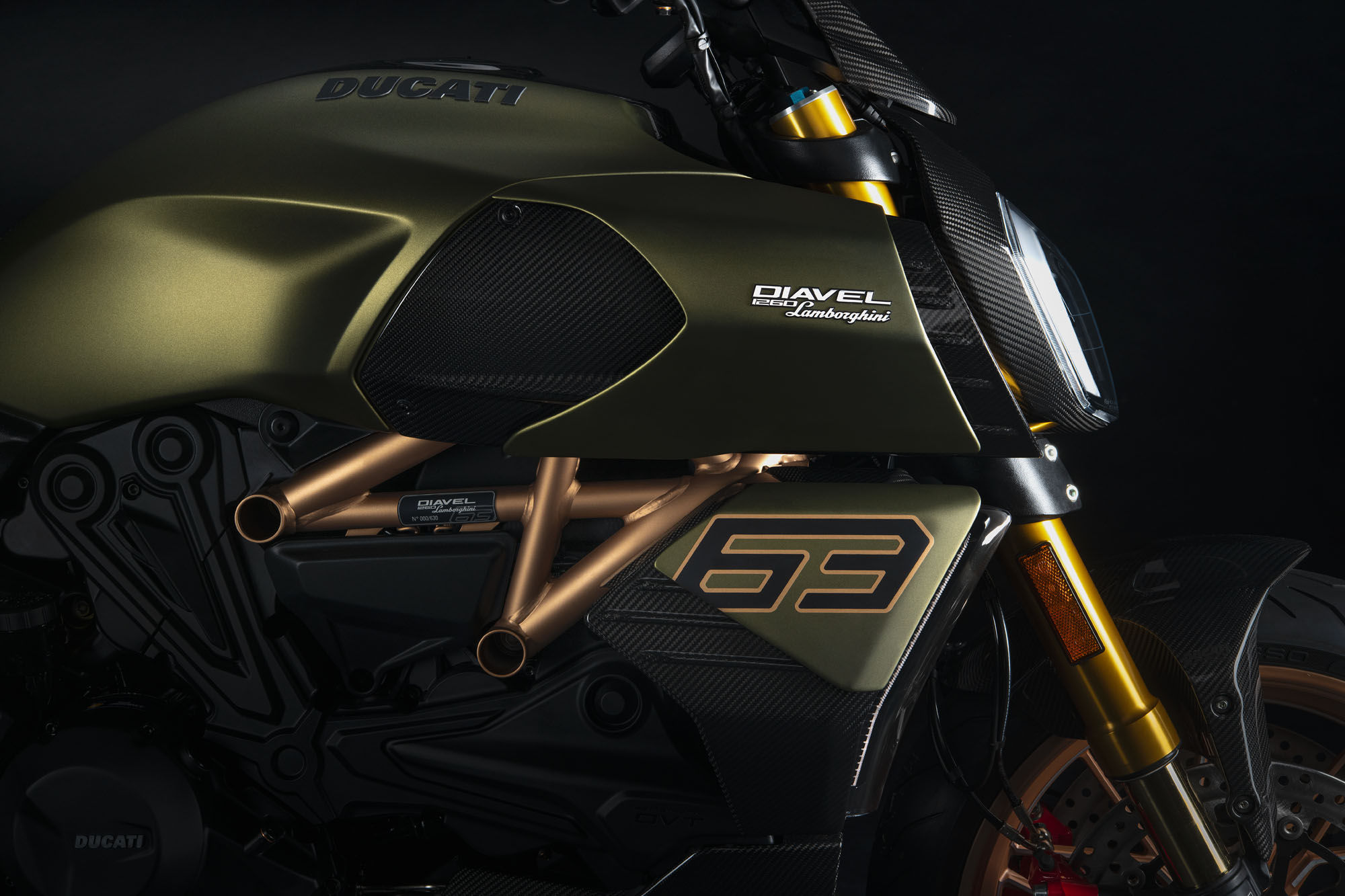 The Ducati Diavel 1260 Lamborghini is built with the tubular steel trellis frame and is supported by fully adjustable Ohlins front and rear suspensions. The bike which holds 17-inch wheels with 240mm profile tires weighs almost 220 kgs.
The special edition Diavel is powered by a 1282cc L-Twin Testastretta DVT engine which produces a maximum power of 162 hp at 9500 rpm and maximum torque of 128Nm at 7500 rpm.
The bike is equipped with electronic features including Cornering ABS EVO, Ducati Power Launch EVO, Cruise Control, Traction Control EVO, and Inertial Measurement Unit.
DUCATI DIAVEL 1260 LAMBORGHINI EDITION PRICE
The Ducati Diavel 1260 Lamborghini Edition is priced at USD 31,995. People can buy a special jet-style helmet built with coordinated graphics, with number 63 badging with this Diavel edition.