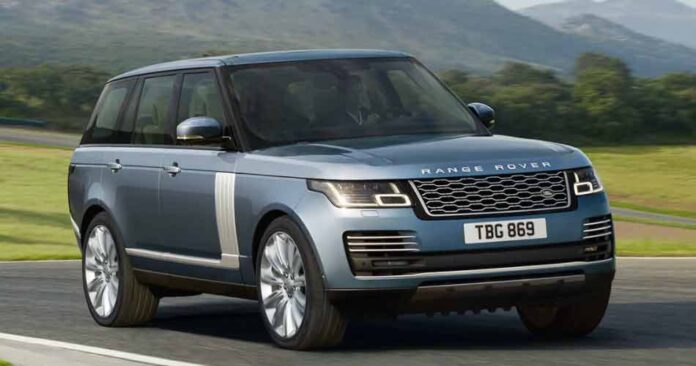 Land Rover holds a good reputation for producing high-class, and high-quality 4x4s. However, the question 'How reliable is Range Rover?' draws attention among automobile enthusiasts and fans.
The latest Range Rover is manufactured with the latest innovation and in a unique way to make the components more reliable and less complex.
In this article, we will explore the features, specifications, and performance of the latest Range Rover and will also try to address the 'How reliable is Range Rover?' question. So, let's get started…
First of all, let's find out the design, performance, features, and technologies of the new Range Rover.
Design
The Range Rover comes with a floating roofline, continuous waistline, and lower accent graphics. This design makes the SUV better in every aspect. There are other innovative features like Pixel-laser LED headlights that offer a greater presence.
Exterior Design
The exterior of the new Range Rover looks classy with the inclusion of a front grille, bonnet combined with integrated exhausts, striking LED lights, and front bumper. Besides, the exterior is crafted with iconic touch and effortless design.
With Standard Wheelbase, the SUV is featured with three classic lines, and the elegance is enhanced by the near-flush glazing and Gloss Black pillars used in the roof. In addition, the unique silhouette is smoothly tapered and curved.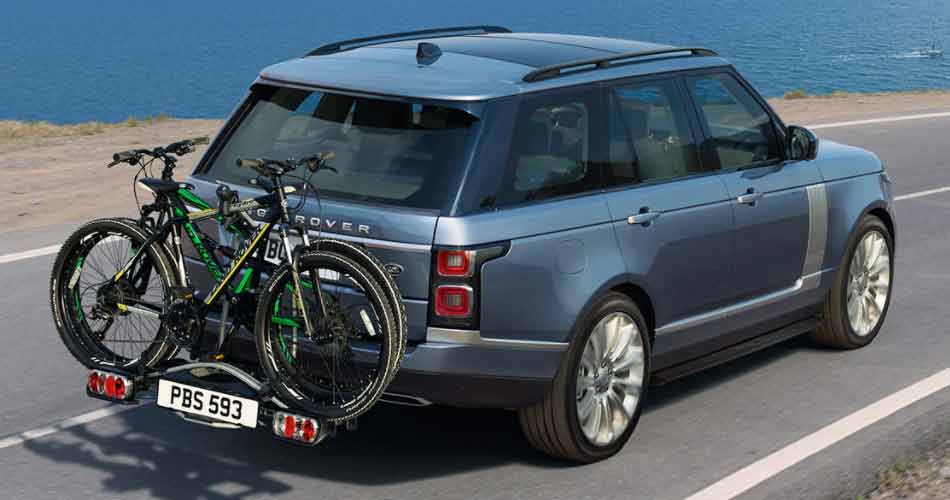 In contrast, the Range Rover Long Wheelbase is equipped with a panoramic roof due to which it is instantly and easily recognizable. This variant is engineered superbly and crafted beautifully. Like its name, the body design is expanded by 200mm to facilitate an even more luxurious feel.
Interior Design
Like the exterior, the interior of the new Range Rover is also superbly appointed, designed with comfortability, and luxuriousness. The sense of refinement is enhanced by the detailed design, veneers, and trim finishing.
The ultimate in luxury, rear Executive Class seats provide exemplary levels of comfort and feature wider and deeper cushioning. The power deployable center console integrates seamlessly with the outer passenger seats to create a luxury four-seat environment.
The interior environment is provided with a luxurious feel by the configurable ambient lighting and enhanced task lighting. The lighting offers a choice of 10 colors and the illumination is designed to highlight the design features. This feature offers a truly unique and relaxed environment.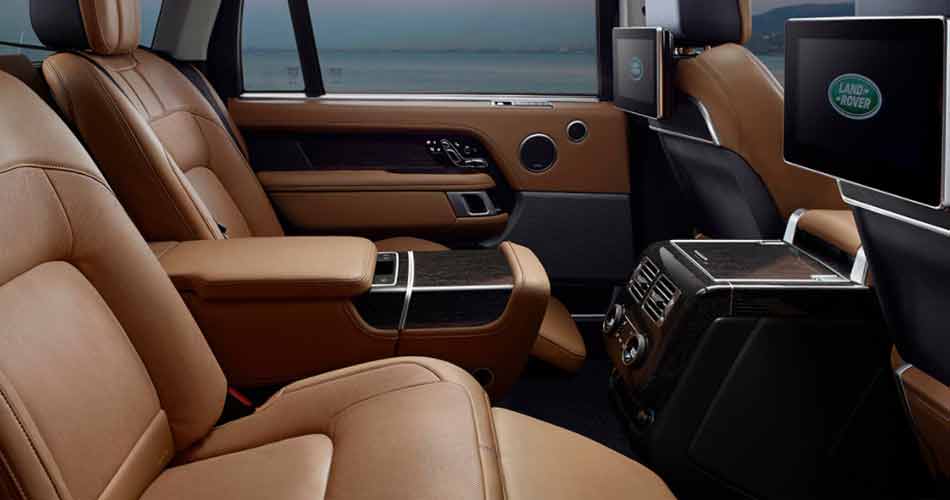 The Standard Wheelbase variant is equipped with high-quality materials and specially engineered for class-leading comfort. The materials used in the interior section include Semi-Aniline leather. The seats are wider and spacious whereas the uncluttered console is introduced for ease of use.
The company says its passengers can create their own tranquil haven with the Range Rover Long Wheelbase. In contrast to the Standard Wheelbase, this variant holds a new level of refinement with the inclusion of an additional 192mm of legroom. This contrasting feature offers more space and comfort to the passengers.
Range Rover available editions and Special vehicles
There are two unique editions available for the new Range Rover named Range Rover Westminster and Range Rover Svautobiography Dynamic Black.
Range Rover Westminster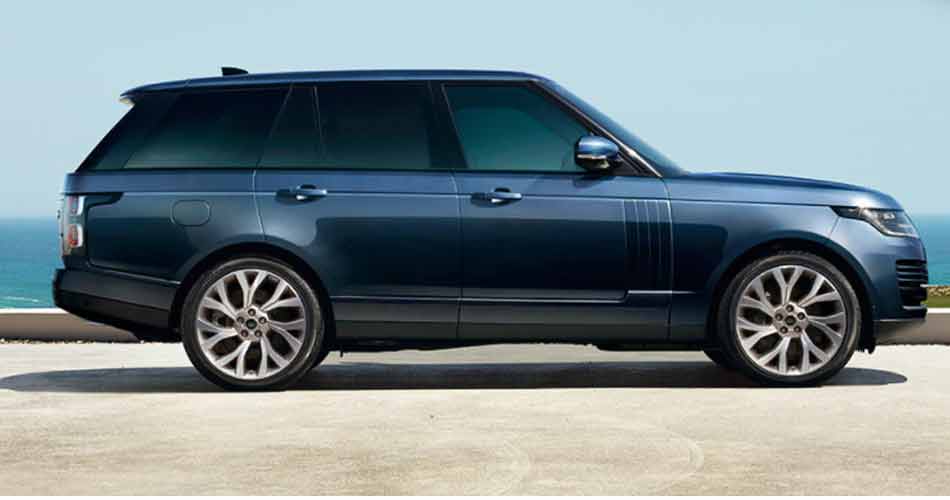 The Range Rover Westminster comes with renowned poise and polish as it features suede cloth headlining, a sliding panoramic roof, and a Kalahari veneer.
Range Rover Svautobiography Dynamic Black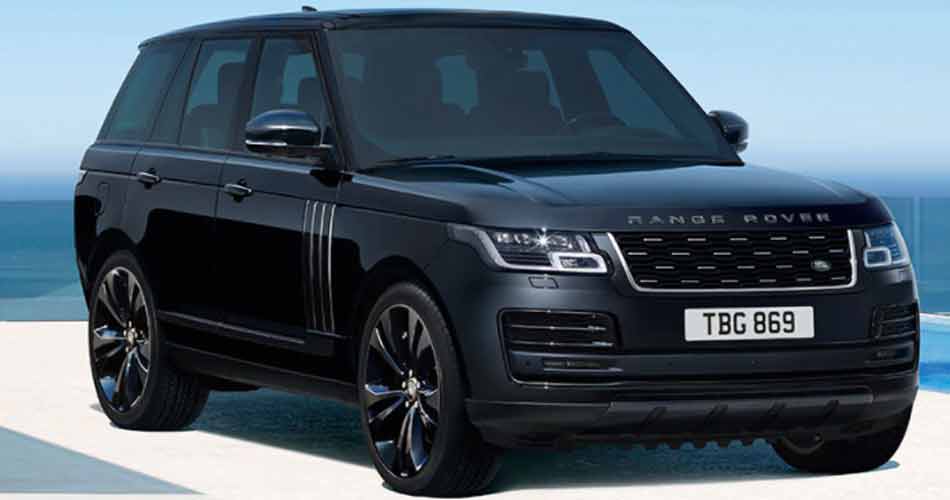 The Range Rover Svautobiography Dynamic Black is optimized with unique black design cues with the implementation of Santorini Black paint. The black paint is paired with Narvik Black accents and an Ebony interior with Pimento stitching. The performance is taken to a new level with the special vehicle operations that enhances luxury and capability.
Performance
The Range Rover models come in three different power variants namely Diesel, Petrol, and PHEV (Plug-in Hybrid).
The Diesel engines are built for enhanced fuel efficiency along with torque characteristics feasible for off-road terrain and towing capability. These engines are introduced for cleaner and long-distance performance.
On the other hand, the Petrol engine variant comes with the capability of offering a dynamic and agile drive. The company claims the petrol engine is engineered intelligently to offer low fuel consumption and Carbon Dioxide emissions.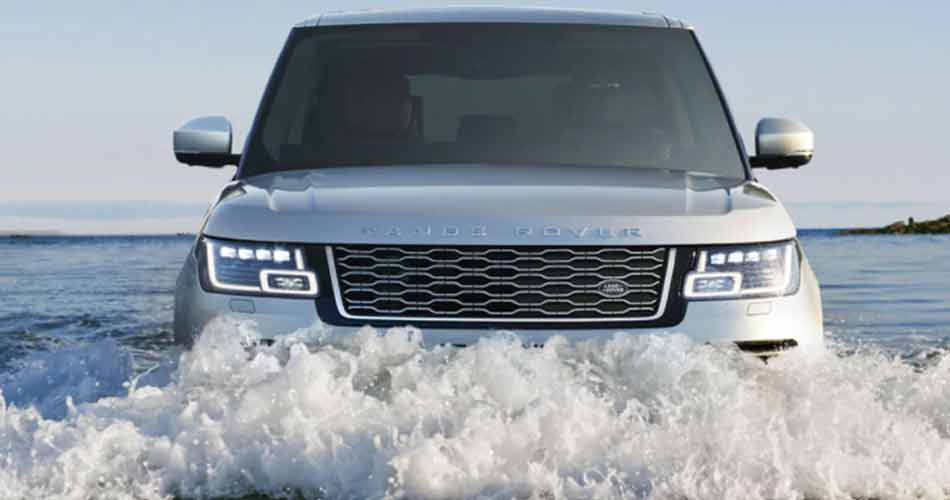 The PHEV (Plug-in Hybrid) is popular these days as the trend of electric vehicles is slowly getting popular across the globe. The Land Rover PHEV is introduced to offer hybrid performance with a conventional engine paired with an electric motor. This combination provides all-electric performance at lower speeds and traditional combustion performance during long-distance travel.
Engines Available for Range Rover
There is a range of engines available for Range Rover that differ from power and sheer driving pleasure to fuel economy and refinement. All the engines are optimized to fulfill all needs and requirements. In addition, the Start/Stop technology and Smart regenerative charging technology are featured on all engine variants.
Chassis Setup
The Chassis of the Range Rover is built with an all-aluminum monocoque body that makes it one of the strongest and lightest vehicles. The minimum intrusion into the safety cell in the event of a collision is ensured by the high-strength aluminum.
Capability
The off-road driving and unrivaled performance are ensured by the precise All-Wheel Drive (AWD) drivetrain. The Range Rover's drive is connected and delivered with an intelligently engineered set of technologies. With that, the vehicle offers optimum traction for assured progress in all conditions.
Talking about the towing capability, the Range Rover offers a towing capacity of up to 3500kgs. The vehicle can execute the most demanding tasks with ease as it is featured with tailored technologies. The optional Electrically Deployable Tow Bar, Rear Height Adjust, and Advanced Tow Assist collectively contribute to the towing capability of the Range Rover.
In addition, the Range Rover can wade in depths of up to 900mm. The optional Wade Sensing feature utilizes sensors in the door minors to let you know when water levels reach near the Rover's maximum depth. Furthermore, the control system offers real-time information and is especially useful in dark situations.
Cargo Capacity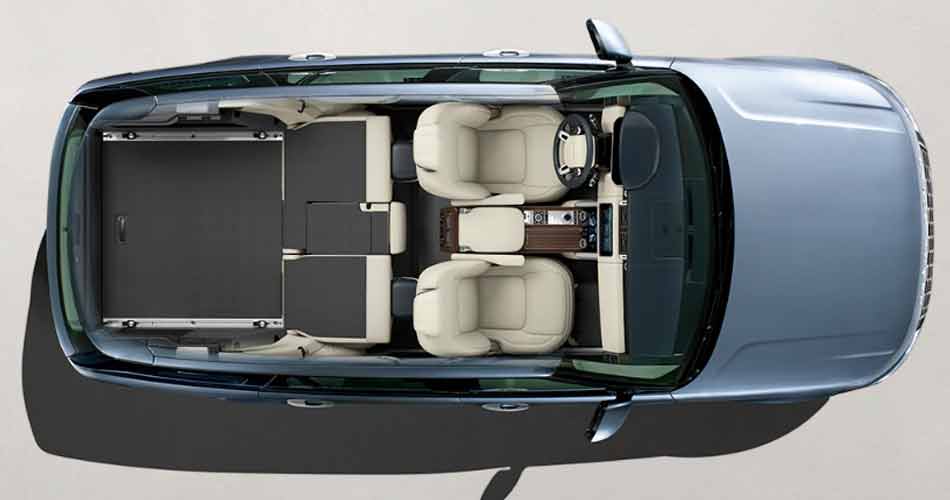 The cargo capacity of the Range Rover depends upon the number of seats you utilize. Lesser the seats utilized more cargo space you get with this vehicle.
For instance, if you use just front seats and fold all other three seats then you get 2.190 liters of cargo capacity. Likewise, if three seats are utilized and 2 are folded then 1.674 liters cargo capacity can be obtained. In case of 4 seats occupied and one folded the cargo space obtained is 1.416 liters. Similarly, you get 0.900 liters of cargo capacity with all seats utilized and just rear cargo space used.
Range Rover Technology
The Range Rover is equipped with various innovative technologies that enhance performance, reliability, and safety.
Infotainment System
Steering Wheel
The steering wheel has hidden-until-lit, touch-sensitive switches. One of these switches is programmable so that it can be personalized to your preferences to accomplish a host of functions.
Rear Seat Entertainment
The optional Rear Seat Entertainment system provides two 10″ high-definition seat-mounted articulating touchscreens. The system is fitted with wireless headphones and remote, USB, and HDMI ports to support multiple devices.
Voice Recognition
So you can complete tasks without taking your eyes off the road, Range Rover offers intelligent voice recognition. For example, 'Tune to 97.9' or 'Call home'.
Smartphone Pack
By screen sharing with your SUV's InControl infotainment system, the Smartphone Pack helps you stay safely connected to your smartphone even while in the vehicle. Applications include both Android AutoTM and Apple CarPlay®.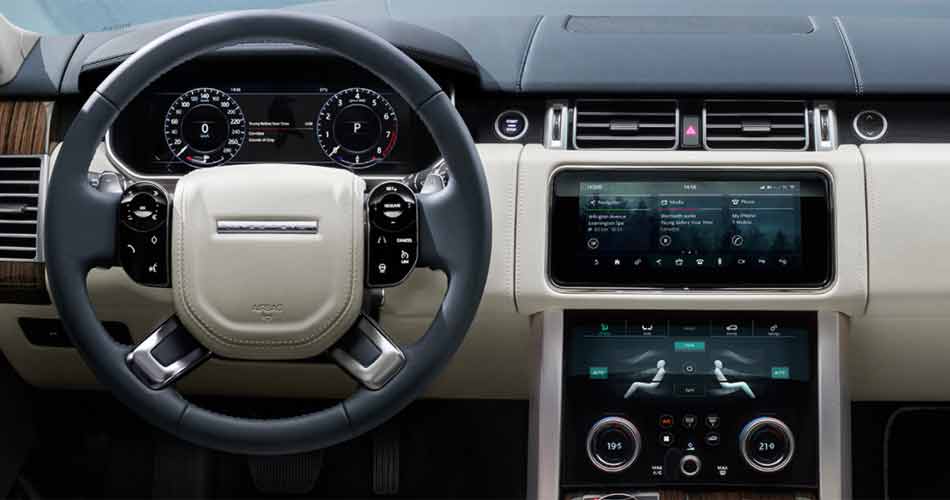 Pro Services
Pro Services provides everything from information based on real-time traffic flow to door-to-door navigation coordinated with your smartphone.
Protect
Together with the ability to remotely check your fuel levels and easily find your parked Range Rover, use Protect to record your journeys and even check you have not left a window open. Includes Optimised Land Rover Assistance.
MERIDIAN™ SURROUND SOUND SYSTEM
All the fullness and clarity of a live performance delivered through an arrangement of 19 speakers including a dual-channel subwoofer – seamlessly brought together using Trifield™ technology2.
Land Rover iGuide
The Land Rover iGuide app uses the latest augmented reality technology to explain all the need-to-know features and controls of your vehicle. It also doubles as a mobile owners' manual, ensuring you always have the answer to any question to hand.
Speed Lowering
The Speed Lowering system uses the electronic air suspension to reduce aerodynamic drag and fuel consumption at cruising speeds by lowering the vehicle by 15mm from normal ride height when the speed reaches 105km/h.
Dynamic Mode
This setting – as part of Terrain Response – delivers a firmer suspension setting to accommodate a more dynamic driving style. The ride is connected and assured, ensuring you enjoy maximum driving pleasure.
Comfort Mode
As part of Terrain Response, this setting delivers premium levels of comfort on road, derived through calibrating the suspension settings to provide a more refined drive.
Twin-Speed Transfer Box
Additional lower gears can prove invaluable in challenging conditions such as when driving off-road or towing. The twin-speed transfer box system gives you precise speed and control in such instances.
Low Traction Launch
Providing you with optimum torque control when you move off from a standstill, Low Traction Launch enhances capability in slippery conditions like wet grass, snow, and ice.
Advanced Tow Assist
Advanced Tow Assist allows you to control the direction of your trailer when reversing by using the rotary Terrain Response, 2 controllers. The optional system will control your vehicle's steering to achieve the desired trailer trajectory.
Hill Descent Control
Land Rover's patented Hill Descent Control (HDC) is a standard feature. It assists the driver with controlled descents of difficult slopes by maintaining a constant speed and applying braking separately to each wheel.
Range Rover Safety System
Emergency Braking
If a potential frontal collision is detected, a warning is displayed, giving you time to take action. If no action is taken, the system applies the brakes to help reduce the severity of the possible impact.
Lane Departure Warning
Can help to make long journeys much safer. Lane Departure Warning senses when your car is unintentionally drifting out of your lane and notifies you with a visual alert and steering wheel vibration.
Front and Rear Parking Aid
Makes parking in tight spaces safer. When you select Reverse, sensors in the rear bumper are triggered. As you park, the Touchscreen and audio feedback indicate how close you are to obstacles.
Cruise Control with Speed Limiter
Cruise Control with Speed Limiter maintains the current speed without the need for continued use of the accelerator pedal, helping to reduce driver fatigue. It also allows you to pre-set a maximum speed.
Driver Assist Pack
The Driver Assist Pack contains the most comprehensive suite of drive and park technologies. Building on both the Drive Pro and Park Pro Packs, the Driver Assist Pack offers additional Adaptive Cruise Control with Steering Assist and 360° Surround Camera.
Range Rover Comfort Technology
Heated and Cooled Seats
Heated and cooled front and rear seats are available to ensure optimal comfort no matter the temperature. The option enables you and your passengers to set their preferred temperature independently.
Extreme Passenger Seat Away
This feature includes a one-touch button to move the front row passenger seat into the most extreme position furthest away from the rear occupant, thereby maximizing rear space and forward visibility for that person.
Center Console Refrigerator
The optional front center console refrigerator compartment provides the luxury of cooling drinks on demand. It can accommodate up to 4 x 500ml bottles and maintain them at a temperature of 5°C.
Enhanced Task Lighting
Rear passengers have the option of two settings: Bright White Light and Warm White Light, each with multiple levels of brightness. The former is more suited to working and activities that require focus whilst the latter delivers a more relaxing, natural light.
Four-Zone Climate Control
Four-zone Climate Control can also make life more comfortable by adjusting temperature levels, direction, and intensity of airflow. The system provides separate controls for the driver, front passenger, and those on each side of the second row of seats. Includes additional vents in the B-pillar.
Connectivity
Range Rover comes with up to seven USB points, HDMI, 12V auxiliary power, and mains voltage connection. So every passenger can stay fully charged and entertained; whether on their tablets, mobile phones, or other devices.
Cabin Pre-conditioning with Remote
This innovative system can pre-heat or ventilate the vehicle via remote control and a seven-day timer. You can always be sure the cabin is at the right temperature before you get in.
Powered Gesture Tailgate
Powered gesture tailgate allows you to open or close the tailgate without needing to touch the vehicle or the key fob. Electronically operated, it has two sensors on either side of the vehicle. Simply move your foot beneath either to activate the feature.
Soft Door Close
Range Rover is also available with an optional Soft Door Close to provide power latching on the front and rear doors. This controls the last 6mm of door travel, providing a soft close of both the front and rear doors.

How reliable is Range Rover?
There are mixed reviews and comments on the question 'How Reliable is Range Rover?'. The carbuyer website conducted a Driver Power satisfaction survey in 2020 but only a few Range Rover owners showed their participation. With the low participation, the Land Rover achieve 25th position out of 30 brands covered in their survey.
Those using old Range Rover models are complaining of some reliability issues however, the latest models have instilled reliability among the customers.
The new Range Rover comes with advanced technologies and offers better performance. It has also been awarded a five-star Euro NCAP safety rating.
The reliability issues of the Range Rover can be overturned by the new models but we need to wait for some more time to acquire authentic reviews from the owners across the globe.