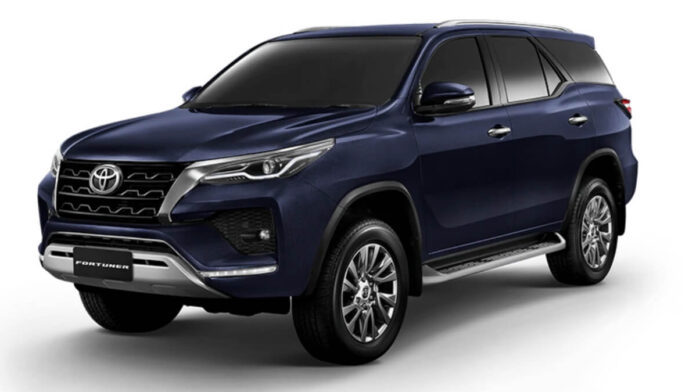 New Toyota Fortuner price in Nepal 2022|Overview|Features| Technical Specifications.
Toyota Global Automobile brand is nowadays customers' No. 1 choice. One may find many service providers and distributors for this Brand in many countries; however, in the context of Nepal, there is only one sole distributor of Toyota vehicles and their genuine parts i.e. United Traders Syndicate Pvt. Ltd. (UTS). Toyota vehicles are popular in Nepal and widely used in both commercial and personal usage. The high dignitaries also prefer Toyota's legendary Landcruiser for their daily rides. The versatility, durability, and long-running capabilities make Toyota a globally trusted brand to its customers. Toyota Fortuner is the starting lineup of the Toyota big-size SUV segment.

DESIGN OVERVIEW
Toyota Fortuner has been the undisputed champion that conquers hearts and terrains wherever it treads. Sharing its gene pool with the legendary Toyota Land Cruiser it is the perfect balance of alluring and imposing. Its legacy grows as it earns more fans and rides enthusiasts. It packs in a punch and is a pleasure to drive on and off the roads, but what makes it stand out is its superior styling. The Fortuner exudes an imposing presence with its enlarged front grille, sculpted front bumpers, sleek Bi-Beam LED headlights, and 18-inch aluminum wheels. Daytime running lights give you excellent visibility in any situation, while the seven-LED sequential indicator lights signal the direction in style.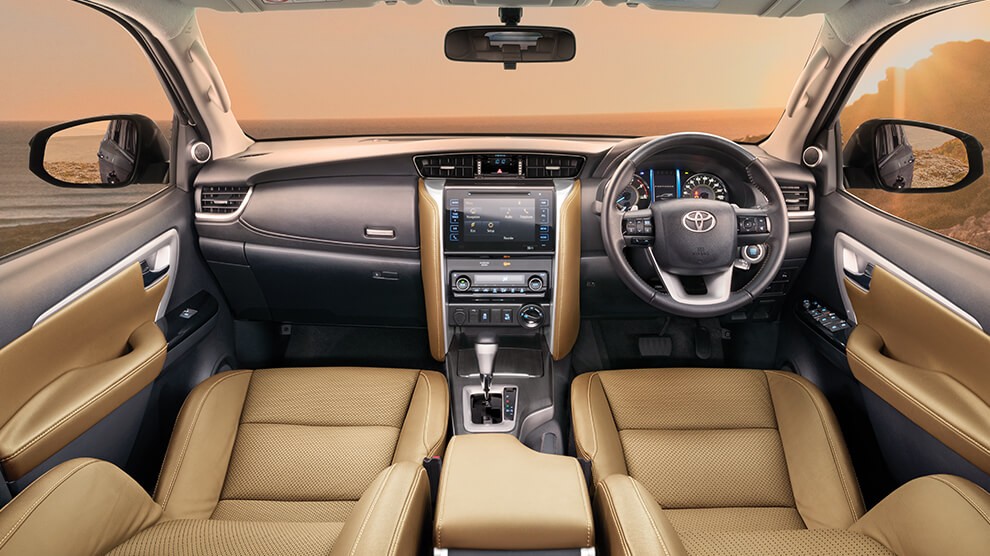 INTERIOR & COMFORT
When you get behind the wheel of a Fortuner, you anticipate the thrill that awaits you. The futuristic Instrument Cluster, the Odometers that spring to life at the slightest touch, or the Centre Console flanked by Soft Leather & Metal Accents all just fall into one place. The MID synced to the map helps you keep track of all the info you need and keeps your eyes focussed on the road instead of toggling screens. The Tilt & Telescopic Steering optimizes driving position and the Reverse Camera with Rear Parking Sensors makes parking easy, the Heat Rejection Glass keeps you cool even in the harshest summers.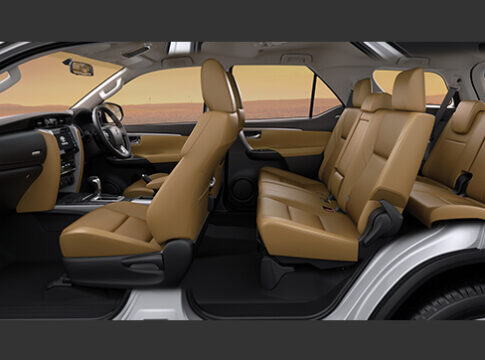 Comfort is something you'll find in plenty in the Spacious Interiors or the smooth drive experience thanks to the Advanced Damping Technology that reduces Vehicle Pitch Behavior making every terrain feel like a flat, smooth ride. The Cooled Upper Glove Box is a blessing on long drives when you need to relieve your thirst with a chilled drink. Seat up to seven people or fold the second and third rows for more cargo space. To create a sense of luxury, subtle LED lighting is used throughout the cabin.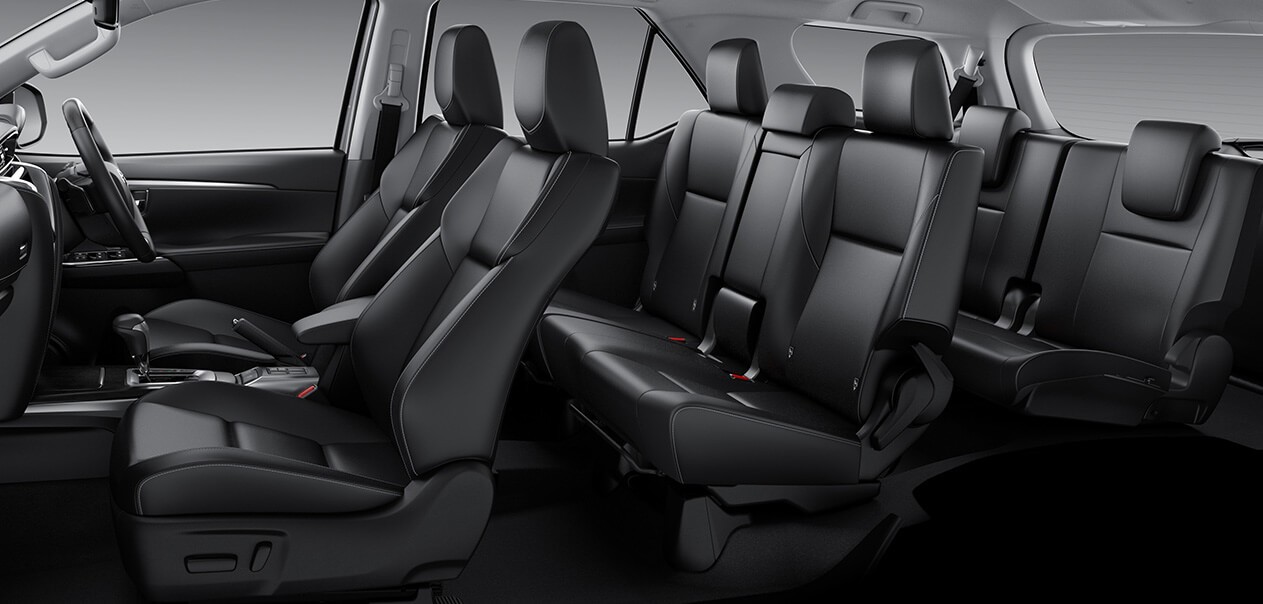 The Auto Power Windows are equipped with jam protection for extra safety, the Auto Rear Cooler keeps the car temperature cozy for all three rows and the One Touch Easy Space up makes making some extra room in the boot space simple. The 8-inch display is compatible with Apple CarPlay®, Android Auto™, and Miracast™. Eleven JBL speakers deliver outstanding acoustics for a concert-like sound experience wherever seated. The back door comes with a jam protection function, while the touch sensor and customizable opening height give you convenient access to the boot. An array of storage solutions and amenities provides more space and greater convenience in the cabin.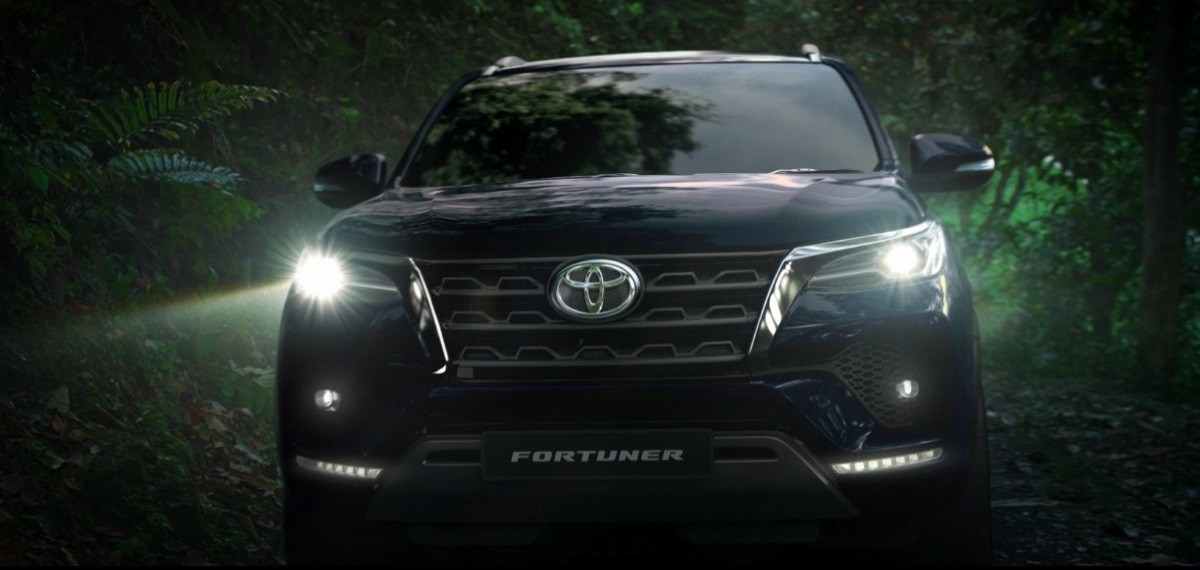 PERFORMANCE & SAFETY
The All-New Fortuner rests on the solid foundation of tough new chassis, which has undergone fundamental re-assessment. The increased overall strength of the cross members, side rails, and suspension enhance the torsional and bending rigidity of the frame. The Vehicle Stability Control keeps the possibility of skidding on tricky terrains in check. The 4 Wheel Disc Brakes with ABS, EBD, and BA give you optimal control even in difficult driving circumstances.
The Isofix Child Seat Mount and Tether Anchor ensure your child is not just safe but also enjoys the drive as much as you. To top it off, the car comes with an Impact Sensing Door Unlock System during an accident. Fortuner's Impact Absorbing Body & Pedestrian Protection System not only gives you safety and ride comfort, but it also makes the car an unrelenting performance.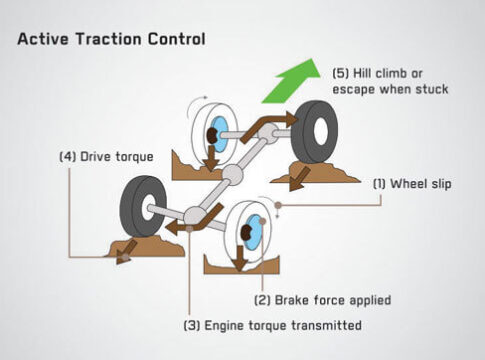 The All-New Fortuner runs on a Powerful Engine that packs a potent punch, yet is surprisingly quiet complemented by the smooth feel of the 6-Speed Automatic Transmission. Add to that the effortless switching between the Eco Mode for everyday driving to the Power Mode for when you need the extra torque. You have all the acceleration you need at your beck and call and all this without consuming too much fuel.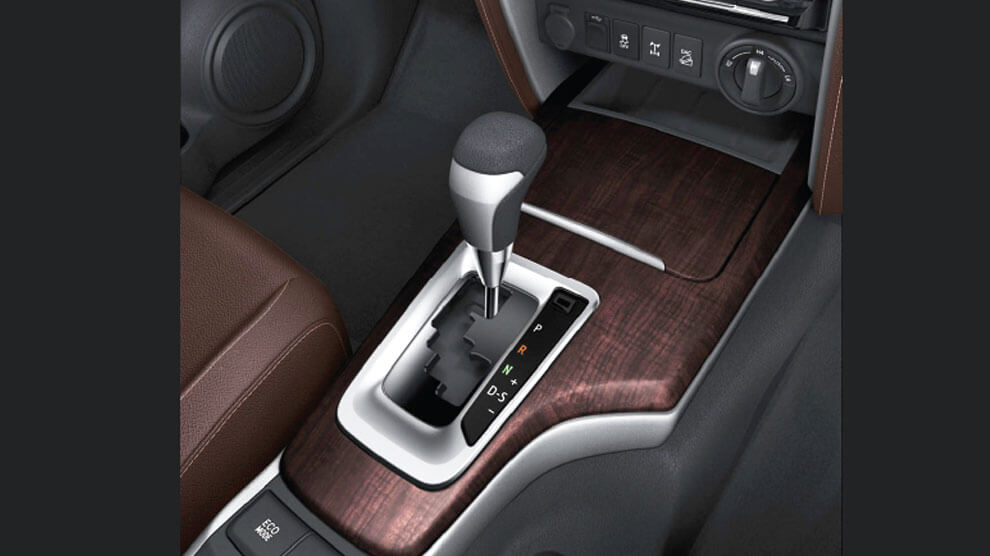 The All-New Fortuner is equipped with Sigma-4, the assurance of being a true SUV. It has been designed to dominate any terrain and take on any road with efficiency and ease. The Active Traction Control (A-TRC) offers superior Limited Slip Differential (LSD) performance. What you get is acceleration and performance on slippery surfaces and escape capability when driving through terrains with low traction.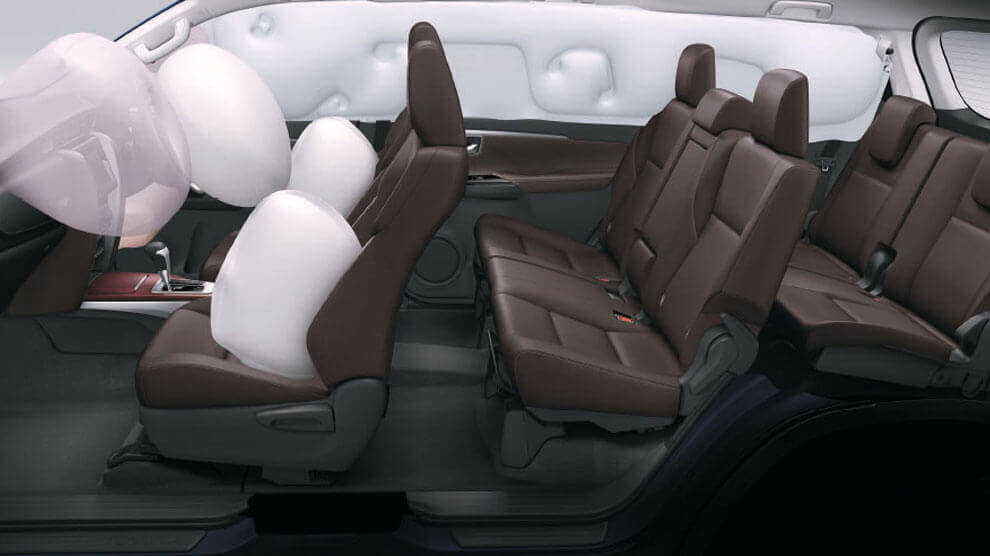 This is the car for the rulebreakers, the nomads, the unplanned, the whim warriors. The Electronic Drive Control makes switching between different drive modes as easy as turning a knob. The DAC and HAC ensure you reach your destination no matter how steep the climb uphill or how treacherous the slope is.

TECHNICAL SPECIFICATIONS OF TOYOTA FORTUNER
| | |
| --- | --- |
| TECH SPECS | TOYOTA FORTUNER |
| Fuel Type | Diesel |
| Displacement | 2755 cm3 [cc] |
| Drive Type | 2WD/4WD |
| Valve Train | Double Overhead Camshaft [DOHC], 16-Valve |
| Charging System | Variable Nozzle Turbocharger with Intercooler |
| Cylinder Nos. Layout | 4-Cylinder, In-Line |
| Max. Output | 130 kW [177 PS] @ 3400 rpm |
| Max. Torque | 420 Nm (MT) @ 1400 – 2600 rpm/450 Nm (AT) @ 1600 – 2400 rpm |
| Transmission | 6MT with IMT [Intelligent Manual Transmission] / Automatic |
| Overall [LXWXH] | 4.795 m X 1.855 m X 1.835 m |
| Wheelbase | 2.745 m |
| Min. Turning Radius | 5.8 m |
| Fuel Tank Capacity | 80 L |
| Seating Capacity | 7 Seater |
| Gross Vehicle Weight | 2610 kg [2WD], 2735 kg [4WD] |
| Front Suspension | Double Wishbone |
| Rear Suspension | 4-Link with Coil Spring |
| Brake | Front & Rear Ventilated Discs |
| Tyre | 265/65 R17 [2WD]/265/60 R18 [4WD] |
| Stabilizer | Pitch & Bounce Control |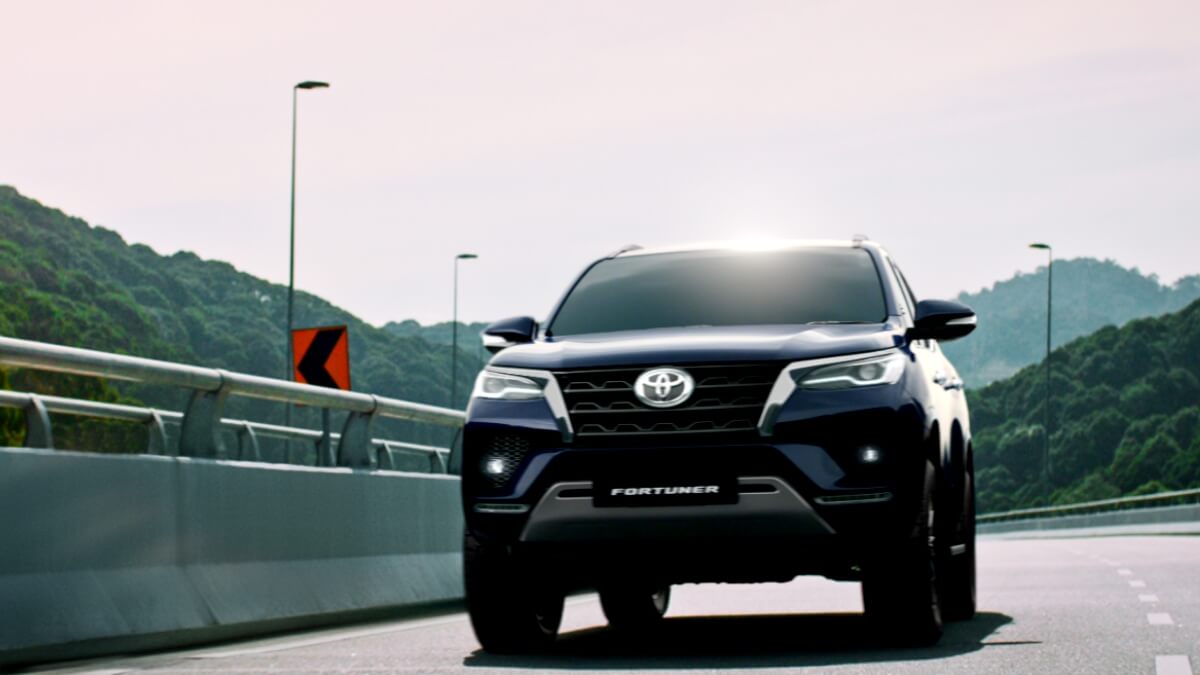 TOYOTA FORTUNER PRICE IN NEPAL
| | |
| --- | --- |
| TOYOTA FORTUNER VARIANTS | TOYOTA FORTUNER PRICE IN NEPAL |
| Toyota Fortuner Manual | Rs. 2,22,00,000 |
| Toyota Fortuner Automatic | Rs. 2,32,00,000 |
Please note that the above price is subject
to change and is for reference purposes only.
What is the price of the Fortuner Top Model in Nepal?
Toyota Fortuner's price starts at Rs 2.22 Crore and goes up to Rs 2.32 Crore. The Top Model Fortuner's Turbo Diesel Engine makes the maximum output of 130KW/3400rpm with 6-speed Automatic transmission and four-wheel drive.
Why Fortuner is expensive in Nepal?
The highly imposed Vehicle tax in Nepal is nearly 300% and the Toyota Fortuner is way higher in its price segment which adds extra few more carriage and shipment charges.
Which is better Fortuner or Prado?
The Toyota Fortuner is good at other things, such as being highly capable off-road, because it shares its underpinnings with the Toyota HiLux 4×4. It depends upon your budget and choice whether to choose accordingly.