Explore top electric cars company
The trend of introducing electric cars is rising day by day due to the fact that the world is trying to move with a sustainable approach. The majority of the automobile companies across the globe are preparing to introduce their electric vehicles to fulfill the future demand of the electric vehicle market.
In this article, we will explore some famous electric cars company in the United States producing electric vehicles. Let's get started…
List of Top 10 Electric Cars Company
Tesla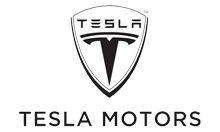 Tesla is an American electric vehicle and clean energy company located in Palo Alto, California. The company manufactures electric cars, battery energy storage from home to grid-scale, solar panels, and solar roof tiles. It produces other products related to electric technology and provides relevant services.
The Tesla company achieved the highest sales in the plug-in and battery electric passenger car segments in the year 2020. The electric vehicle company managed to acquire 16 percent of the plug-in market including plug-in hybrids and 23 percent of the battery-electric (fully electric) market.
The company produces a major installer of solar photovoltaic energy generation systems in the United States through its subsidiary named Tesla energy. It is also one of the largest suppliers of battery energy storage systems across the globe with 3 GWh of battery storage supplied in the year 2020.
Tesla Motors was founded in July 2003 by Martin Eberhard and Marc Tarpenning and the company's name is a tribute to inventor and electrical engineer Nikola Tesla. Elon Musk, the contributor of the Tesla Company, has served as a Chief Executive Officer since 2008. The main motive of Tesla is to expedite the transformation to sustainable transport and energy via electric vehicles and solar power.
The first production of the Tesla cars began in the year 2009 with the Roadster model.
Elon Musk, who contributed most of the funding in the early days, has served as CEO since 2008. According to Musk, the purpose of Tesla is to help expedite the move to sustainable transport and energy, obtained through electric vehicles and solar power. Tesla began production of their first car model, the Roadster, in 2009. 
Tesla Cybertruck [Upcoming Tesla Electric Car]
The Tesla Cybertruck is a battery-powered electric light-duty truck announced by the Tesla company which will begin production from the year 2021. The company has production plans for three models of the Cybertruck.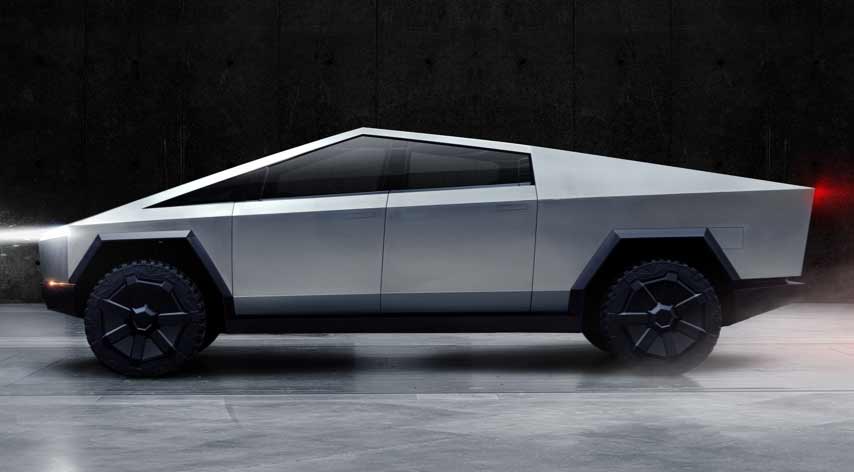 The three different models of the Tesla Cybertruck are Single Motor RWD Cybertruck, Dual Motor AWD Cybertruck, and Tri-Motor AWD Cybertruck.
The main goal of the Tesla company to introduce the Cybertruck is to offer a sustainable energy vehicle in replacement to the 6500 fossil-fuel-powered trucks.
Elon Musk, the owner of Tesla, decided to build a truck with load-compensating suspension. He discussed this project between the year 2012 and 2013 and also made comparisons with a Ford F-250. In early 2014, Musk assumed it would take 4 to 5 years for the initiation of the Cybertruck project.
Cadillac
The Cadillac Motor Company is a division of the American automobile manufacturer General Motors Company (GM) that produces luxury vehicles. The major market potential of the Cadillac is the United States, Canada, and China.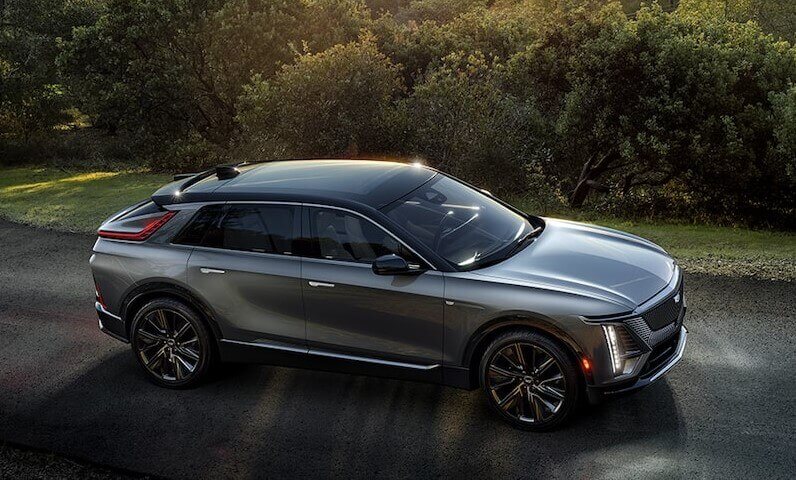 Cadillac models are distributed to almost 34 additional markets globally. The name of the company is based on the name of the founder Antoine de la Mothe Cadillac.
Cadillac Lyriq [Upcoming Cadillac Electric Car]
The Cadillac Lyriq is shaped and colored with the natural world to meet your desire for modern adventure. The Lyriq is designed with an automated charge port and a full-glass roof that subtly slopes toward a vented roof spoiler. The sense gets engaged with a choreographed lighting and advanced LED technology. The Lyriq designers have achieved sleek proportions with aggressive aerodynamic targets considering the optimum range and efficiency. Lyriq is an effortless design with a magnetic draw.
"The 2023 Cadillac LYRIQ will deliver a high-performance luxury experience set a new standard for Cadillac." —Rory Harvey, Vice President, Global Cadillac
The all-new Ultium battery platform takes the performance of the Cadillac Lyriq to the next level and also redefines the Cadillac DNA. As a structural element of the body chassis system, Ultium enables a near 50/50 weight distribution of the vehicle and a lower center of gravity, which together result in a vehicle that's sporty, responsive, and allows for spirited driving.  
Chevrolet
The Chevrolet colloquially referred to as Chevy is an American automobile division of the American manufacturer General Motors (GM). The company was founded on November 3, 1911, by Louis Chevrolet and ousted General Motors founder William C. Durant who utilized the Chevrolet Motor Car company to gain a controlling stake in General Motors.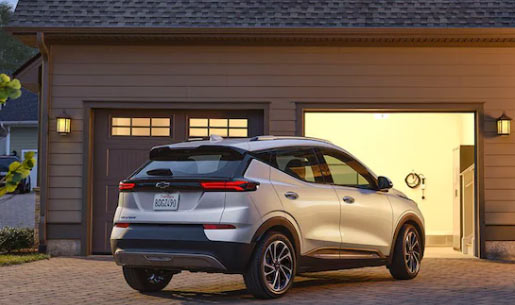 Chevrolet 2022 Bold EUV [Upcoming Chevrolet Electric Car]
The Chevrolet company is preparing to expand its electric vehicle production for 2022 by manufacturing the SUV-inspired Bolt EUV (Electric Utility Vehicle). This EUV will offer a more spacious cabin than the other hatchback introduced by the company. Besides, the 2022 Bold is to be designed with a more rugged exterior styling.
The Bolt EUV is powered by a 200-hp electric motor that is supported by a 65.0 kWh battery pack. This battery pack provides up to 250 miles of driving range per charge. This car after being introduced in the coming year will compete with other popular electric SUVs like Tesla Model Y, Ford Mustang Mach-E, and Hyundai Kona Electric.
Chevrolet is trying to compete for the EUV market with futuristic styling, reasonable pricing, and semi-autonomous driving technology.
Lucid Motors
Lucid Motors is an American electric cars company with headquarter in Newark, California. The company was previously known as Atieva. Besides vehicle manufacturing, Lucid also focuses on other divisions including energy storage, and original equipment manufacturing.
Lucid was founded in 2007 under the name Atieva and originally focused on building electric vehicle batteries and powertrains for other vehicle manufacturers.
Some of the 500 employees of Lucid Motors had previously worked at other car companies such as Tesla and Mazda, including Chief Executive Officer Peter Rawlinson, the former VP of Engineering at Tesla, and Vice-President Derek Jenkins, the former Head of Design at Mazda North America Operations.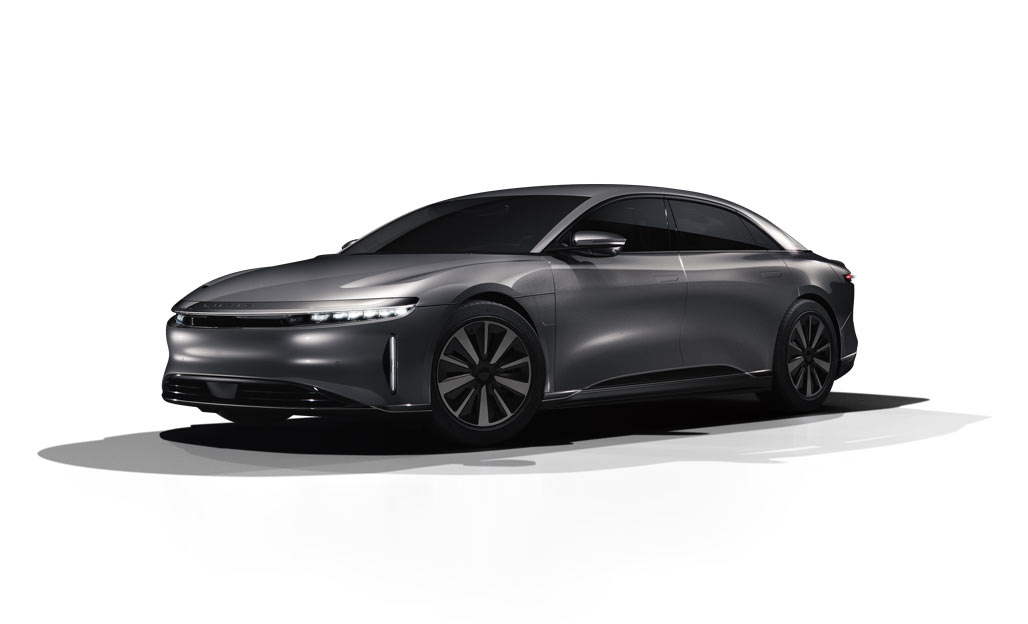 Lucid Air [Upcoming Lucid Electric Car]
The Lucid Air is the upcoming Lucid electric car to compete in the electric vehicle market. This is a revolutionary approach to automotive packaging called the Lucid space that signifies the miniaturization of the Lucid's in-house manufactured EV drivetrain to optimize interior cabin space.
The Lucid Air will be manufactured based on the central concept of the architecture of the Lucid Electric Advanced Platform (LEAP). This car is known to be a holistic, and clean-sheet approach to advanced EV construction that will be introduced as a good competitor in the EV market.
Lucid is able to offer that space for passengers and their comfort by simultaneously producing smaller yet more powerful electric motors and dramatically improving the packaging of the entire electric powertrain. This extends the philosophy of hyper-efficiency embedded in every facet of Lucid Air, from energy to spatial efficiency, delivering an unprecedented combination of range, practicality, performance, and luxury. 
The Space Concept also contributes to the subtly different and modern proportions for the Lucid Air, without relying on any traditional automotive design cues, instead of delivering a beautiful car that looks entirely distinctive on the road.
Canoo
Canoo is an American startup electric cars company based in Torrance, California near Los Angeles. The company was founded in 2017 under the name Evelozcity by Stefan Krause and Ulrich Kranz.
Canoo is planning to sell a minivan in the year 2020 and also has plans to manufacture commercial electric vehicles such as vans for the vehicle rental and ride-sharing services.
Canoo Fully Electric Pickup truck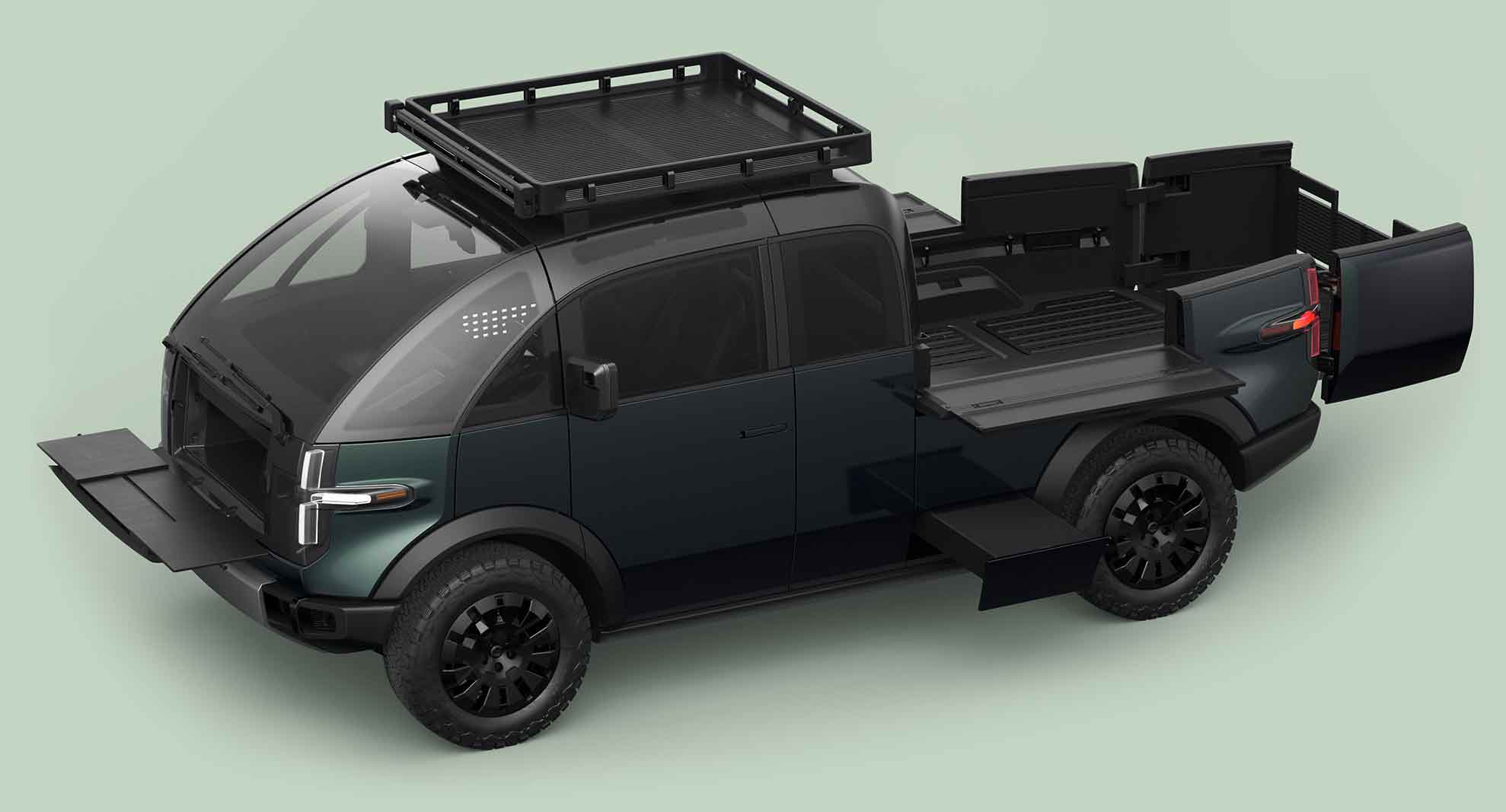 The fully electric pickup truck is one of the products of Canoo that is all-American and always ready for work and the weekend. The battery-powered pickup truck is manufactured with features including cabin-forward design, steer-by-wire technology, and proprietary multi-purpose platform architecture.
The Canoo electric pickup truck is featured with an extendable flatbed that competes with the best-selling pickup trucks on America's electric vehicle market. This pickup truck is introduced to offer features including advanced exterior lighting, exportable power, cargo storage, flip-down side-tables, sidestep and storage, multi-accessory charge port, extendable bed with space dividers, and fold-down worktable.
The pickup truck is powered by dual or rear motor configurations that produce a power of 500+hp and 550 lb.-ft. of torque with dual motors. The vehicle payload capacity is 1800 lbs. and offers 200+ miles of battery range. 
Faraday Future
Faraday Future is also an American start-up technology company that emphasized the development of electric vehicles. It was founded in April 2014 by Chinese businessman Jia Yueting and the headquarter is in Los Angeles, California.
The company is named for one of the founding principles of electric motor technology known as Faraday's law of induction, which in turn is named after English scientist Michael Faraday who discovered electromagnetic induction.
Faraday Future FF91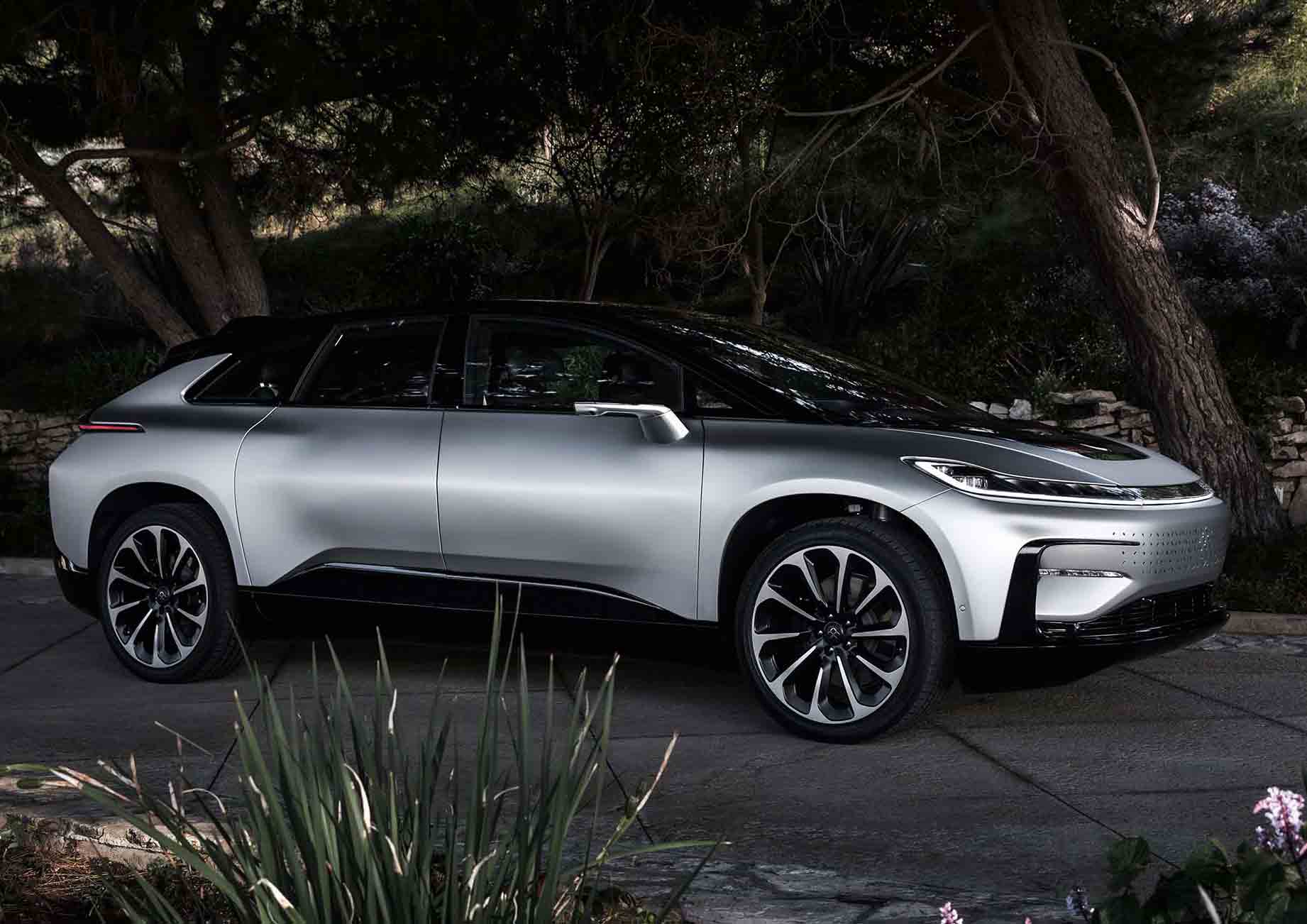 FF 91 is the first production vehicle and flagship model of the Faraday Future company. It is an All-electric, autonomous-ready, and seamlessly connected model that embodies the latest mobility advancements in performance, intelligence, and user experience. FF 91 is a future-forward design that visually sets it apart from anything else on the road.
The FF91 is designed to be highly modular with Variable Platform Architecture (VPA) that securely houses the battery, powertrain, and the FF Echelon Inverter.
The lithium-ion battery cells achieve the world's highest energy density – nearly double that of a production automotive battery. This not only represents a significant step forward in battery technology, but it's also a tremendous increase in range, well in excess of 300 miles on a single charge.
Bollinger
Bollinger Motors based in Oak Park, Michigan, United States is an American automobile electric cars company. An American entrepreneur Robert Bollinger founded this startup company in the year 2014 in New York City. The name Bollinger is taken after his surname. The core aim of Bollinger Motors is to produce a full-size electric off-road vehicle.
The first product of Bollinger's designers was a prototype of a 3-door car called the B1 that was presented in June 2017. The car is designed with a characteristic and austere design along with an angular body covered with matte varnish. By August 2017, the manufacturer managed to collect 6,000 orders for the Bollinger B1.

Bollinger B1 and B2
Bollinger Company says:
Bollinger trucks are the only Class 3 electric trucks on the planet. From the ground up, the dream was to build something that didn't exist. Clean and simple, built to last. Nothing frivolous, nothing unnecessary. All electric. All aluminum. All wheel drive. And we're building them right here in Detroit.
Evolution sometimes takes a little reflection. A pause to look back, then forward. Taking the path of the all-electric 4×4 truck was obvious for Bollinger Motors, though a long-overdue refresh in the landscape of vehicle design. Our unrelenting drive to build a new standard in trucks started with a need that had been overlooked by automotive manufacturers for years.
The need was to scrap everything and start from scratch. No, we didn't have to entirely reinvent the wheel to create a new ev truck – that was a pretty sound design already. We did, however, rethink every other system on trucks, how we use them and what we wished they did. For these electric-powered trucks to be unlike any other, we stripped the old systems away, made improvements on them, or simply left them alone because they worked great already. 
By designing an electric 4-wheel-drive SUV and pickup from the ground up, we've created a new platform of electric trucks capable of exceptional off-road performance, combined with never-before-seen utility features. Our all-electric, dual-motor drivetrain creates best-in-class horsepower and torque, all-wheel drive, 50/50 weight distribution, unbeatable traction, and best-in-class ground clearance.
Fisker
Fisker Automotive is known for manufacturing the Fisker Karma, one of the world's first production luxury plug-in hybrid electric cars company. The company based in the United States debuted during the 2008 North American International Auto Show and made its first deliveries in 2011.
The production of the Fisker Karma was declined in November 2012 due to the bankruptcy of its battery supplier A123 Systems, with about 2,450 Karmas built since 2011 and over 2,000 cars sold worldwide.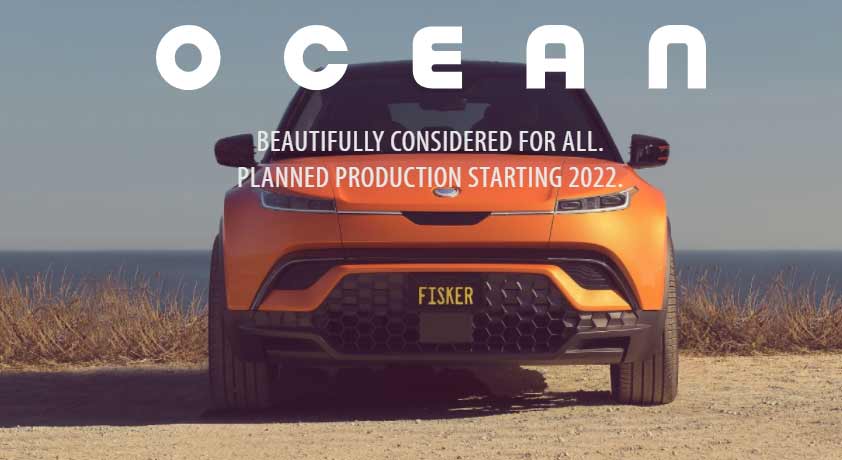 Fisker Ocean [Upcoming Fisker electric car]
It has been confirmed by Henrik Fisker that the upcoming Fisker Ocean electric car will produce a power of 536 hp (400 kilowatts) with the use of a dual motor and all-wheel drive powertrain. The company previously announced the car would produce 302 hp (225-kilo watts) but now came up with a revised decision.
The Fisker company will release updated technical specifications as the power is increased. As per the previous specifications, the electric crossover Fisker Ocean could be able to achieve an estimated EPA of 250 to 300 miles (402 to 483 kilometers by using a batter of almost 80 kWh capacity.
Ford
The Ford Motor Company is an American multinational automaker with its headquarter in Dearborn, Michigan, a suburb of Detroit. The company commonly known as Ford was founded by Henry Ford and incorporated on June 16, 1903.
Ford sells automobiles and commercials vehicles under the Ford brand and the majority of the luxury brands under the Lincoln brand.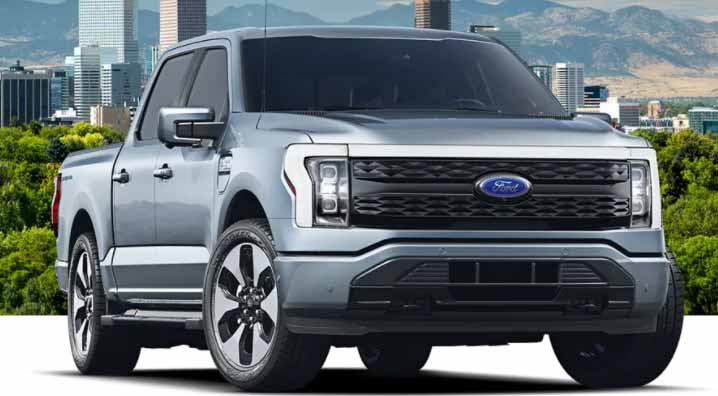 Ford F-150 Lightning [Upcoming Ford Electric vehicle]
The Ford F-150 is the competitor of the Tesla Cybertruck. F-series is America's best-selling truck for 44 years for a reason. And now, it's charging into the future with the all-new, all-electric 2022 Ford F-150 Lightning. It's the first-ever F-Series that's gas-free and offers more purposeful technology, an elevated driving experience, and trusted Built Ford Tough capability. Offering an ingenious array of connected, intelligent features with over-the-air Software Updates to help ensure your truck can get even better over time.
The Ford F-150 Lightning connects to your house when it needs to power up, but can seamlessly return the favor without even the push of a button if the lights go out with available Ford Intelligent Backup Power. Best of all, you can monitor your truck's status from just about anywhere with your phone.
Rivian
Rivian is an American electric cars company and automotive technology company established in 2009. The company with its base in Irvine, California has a production plant in Normal, Illinois, and other facilities in Plymouth, Michigan; Palo Alto, California; Carson, California; Vancouver, British Columbia and Woking, England.
The company announced to produce an electric sport utility vehicle and a pickup truck in the year 2017. The company was founded in 2009 by CEO Robert "RJ" Scaringe, who graduated from the Massachusetts Institute of Technology with a doctorate in mechanical engineering. 
After being renamed Avera Automotive and then Rivian Automotive, the company began focusing on autonomous electric vehicles in 2011.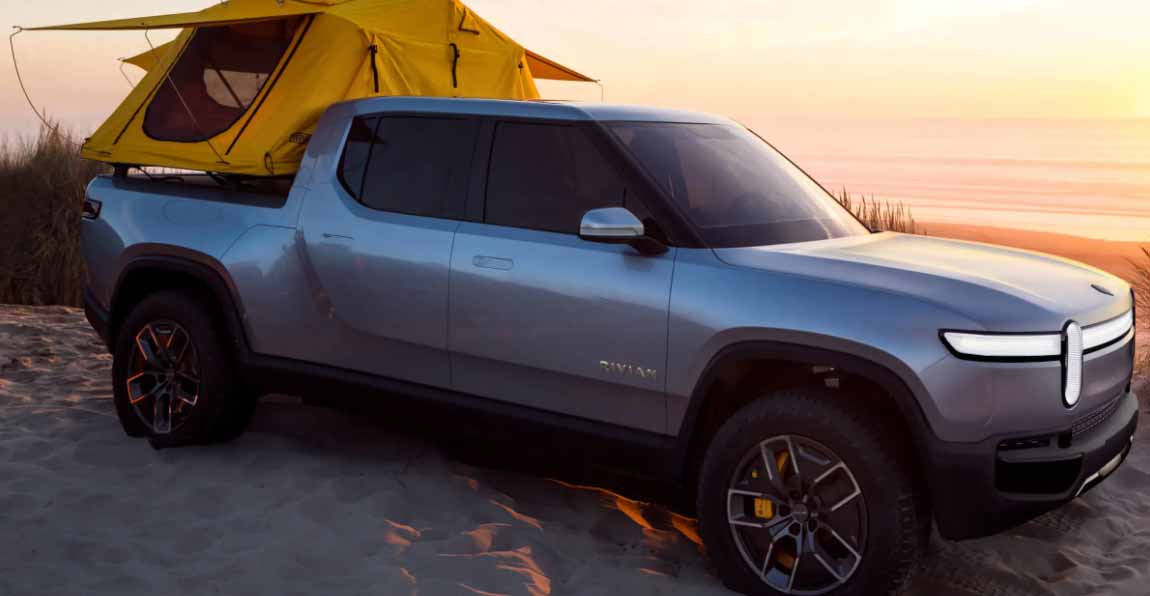 Rivian R1T [Upcoming Rivian electric car]
The structures of Rivian R1T manufactured from aluminum alloy, ultra-high-strength steel, and carbon fiber are designed for enhanced safety. The company's platform's low center of gravity helps prevent rollover and keeps drivers confidently planted. A range of driver assistance features is standard on every Rivian vehicle to enhance a higher level of safety.
You can drive through 3 feet of water and rock crawl at a 100% grade with the R1T. Besides, you can traverse just about any terrain with 14 inches of ground clearance. With a 0-60 mph time in as quick as 3 seconds depending on your tire selection, it also delivers the on-road handling of a sports car.
Across the hottest and coldest places — from 130F to -25F — the battery system has been developed to explore. At launch, the R1T is expected to deliver 300+ miles. In January 2022, a 400+ mile R1T will be available. After launch, the company will be announcing the timing for a 250+ mile R1T.