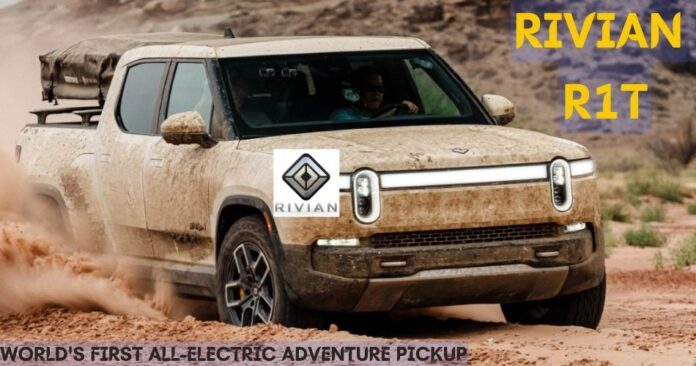 Is Rivian R1T the world's first Electric Adventure Pickup Truck? Let's find it now.
Production of electric vehicles is getting good momentum across the globe. There are lots of electric cars, buses, bikes, and scooters currently running on the roads. With advancements in EV production technology, we are now able to witness high-performance all-electric adventure and pickup trucks.
Rivian R1T is the world's first all-electric adventure pickup truck that is built to offer powerful performance on-road and way off.
Rivian R1T Interior
The interior of Rivian R1T is inspired by overland trips, off-road detours and long weekends in the woods. Premium and adventure-proof materials are used in the interior section that can withstand mud, sand or anything thrown at it.
Panoramic Roof

Vegan Leather Seating

Rivian Elevation Audio System

LTE and Wi-Fi Data Capabilities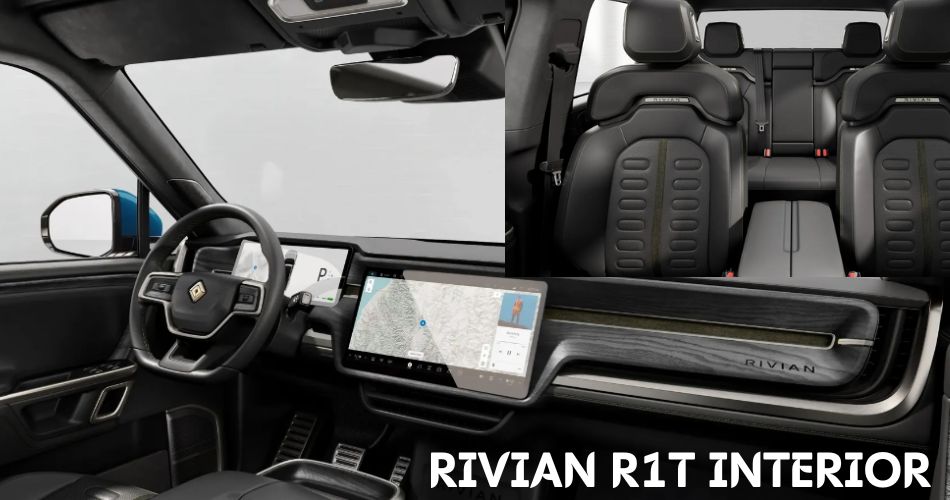 You can feel the beautiful ambiance of day and night with an all-glass panoramic roof. The interior technology features a touchscreen with LTE and Wi-Fi, Bluetooth Pairing, Wireless Inductive Charger, USB ports, 120V outlets, and Alexa Voice commands.
A natural-grained ash wood wrapping is used around the center display to offer an adventurous design. Customers get options to choose between Explore Black Mountain, Forest Edge, and Ocean Cost interior options.
The sound technology is enhanced by the use of cabin correction technologies and precise frequency control. Likewise, speakers are placed at appropriate locations across the cabin to offer high-quality sound.
Rivian R1T Exterior
The exterior of the Rivian R1T looks muscular and rigid enough to offer an adventurous appearance. There are nine color options available for the Rivian R1T exterior.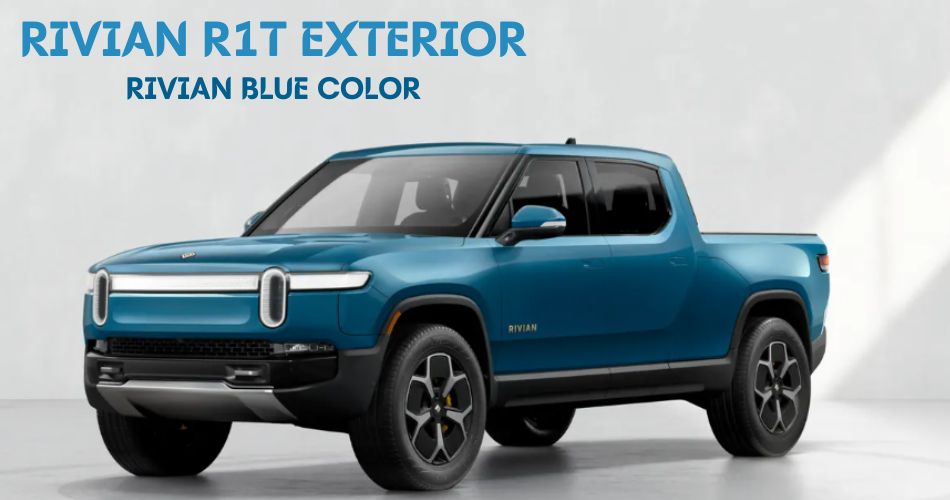 LA Silver (Included)
Glacier White ($1,750)
Red Canyon ($2,500)
Midnight ($2,500)
Rivian Blue ($2,500)
Limestone ($1,750)
Forest Green ($1,750)
El Cap Granite ($2,500)
Compass Yellow ($2,500)
Rivian R1T Dimensions
The maximum height of Rivian R1T including the antenna is 78.2 inches. The overall length and width are 217.1 inches and 81.8 inches respectively. Likewise, the wheelbase is 135.8 inches.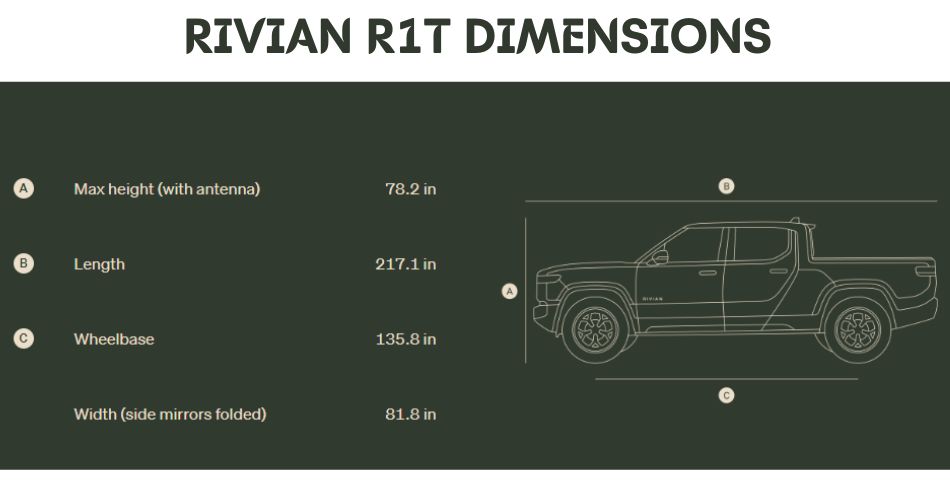 The bed width, bed length with the tailgate up and bed length with the tailgate down are 51.1 inches, 54.1 inches, and 83.9 inches respectively.
Rivian R1T Ground Clearance
The maximum ground clearance offered by the R1T Pickup truck is 14.9 inches (379mm). The wading depth of R1T is over 3 feet.
Rivian R1T Battery Size and Capacity
There are 3 battery packs available for Rivian R1T which are the Standard Pack, Large Pack, and Max Pack. The standard pack is included while purchasing the vehicle whereas the Large Pack and Max Pack must be purchased for an additional price. 
| | |
| --- | --- |
| BATTERY PACK | CAPACITY |
| Standard Pack | 105 kWh |
| Large Pack | 135 kWh |
| Max Pack | 180 kWh |
Rivian R1T Range
The estimated range offered by Rivian R1T is between 260+ miles and 400+ miles. This range variation is based on the type of battery pack and wheels.
| | | |
| --- | --- | --- |
| BATTERY PACK | RANGE | PRICE |
| Standard Pack | 260+ miles | Included |
| Large Pack | 320+ miles | $6,000 |
| Max Pack | 400+ miles | $16,000 |
As claimed by the company, the dual-motor configuration with 21" wheels is the best combination for range efficiency. The 20" wheels can reduce range by 10-15% while the 22" wheels deduct range efficiency by 5-10%.
Rivian R1T Quad Motor
R1T all-electric adventure pickup is equipped with dual-motor All-Wheel Drive (AWD) drivetrain, however, there is an option to choose Quad-motor AWD which costs an additional $8,000.
The Quad-Motor features one motor for each wheel to offer an optimum level of performance, capability, and control. On the other hand, dual-motor AWD is equipped with one motor for each axle.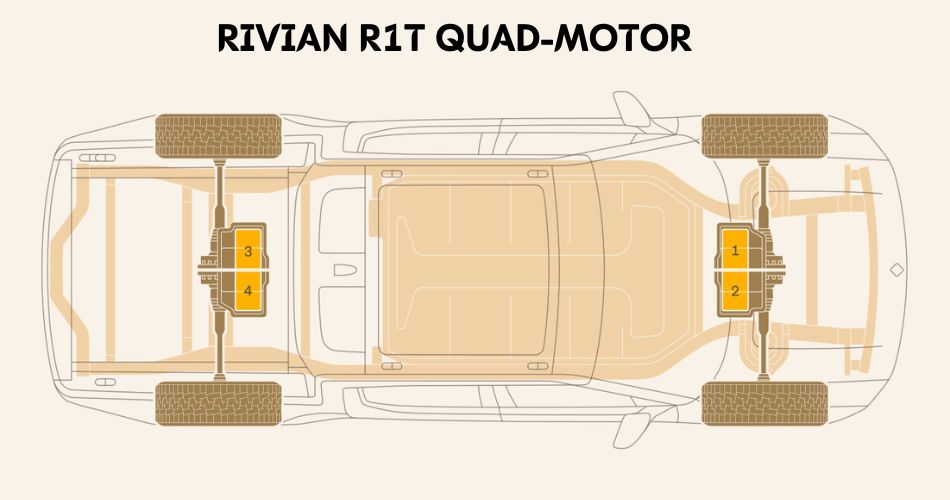 R1T Dual Motor vs Quad Motor
| | | |
| --- | --- | --- |
| DUAL-MOTOR AWD | VS | QUAD-MOTOR AWD |
| All-wheel Drive (AWD) | DRIVETRAIN | All-wheel Drive (AWD) |
| 2 (one motor per axle) | NUMBER OF MOTORS | 4 (One motor per wheel) |
| 4.0 seconds | ACCELERATION (0-60 mph) | 3.0 seconds |
| 600hp+ | POWER | 800hp+ |
| 600 lb-ft+ | TORQUE | 900 lb-ft + |
Rivian R1T Performance
Drive through 3+ Feet of Water
Rock Crawl at a 100% grade
Dominate any terrain with 14,9 inches of Ground Clearance
Achieve 0-60mph within 3 seconds
Towing Capacity of up to 11,000lbs
8 Driving Modes are Available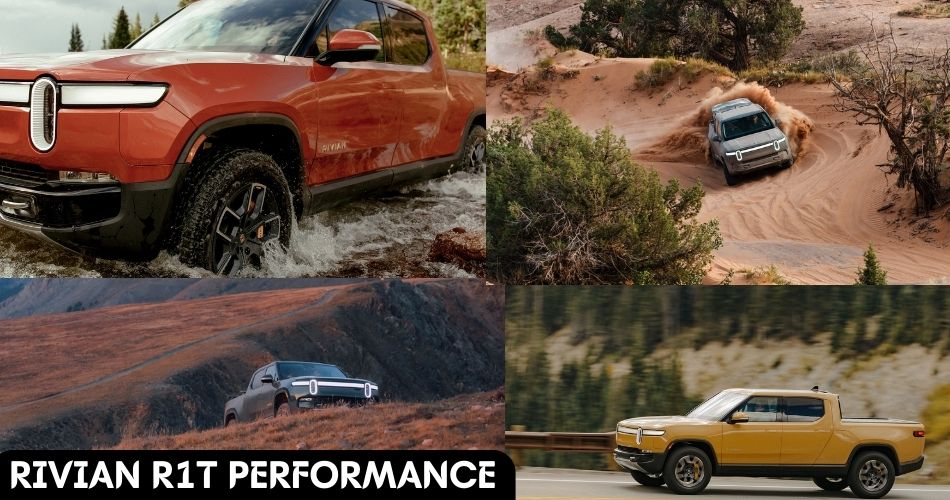 Rivian R1T Drive Modes
R1T offers 8 drive modes with which you can adjust the ride height, suspension stiffness, all-wheel-drive system and accelerator pedal response to boost performance, efficiency, and overall comfort.
The available drive modes are All-Purpose, Sport, Off-Road Auto, Off-Road Rock Crawl, Off-Road Rally, Off-Road Drift, Conserve and Tow Mode.
Rivian R1T Acceleration (0-60mph)
The estimated time taken by Rivian R1T to achieve 0 to 60 mph is 3 seconds with Quad-motor AWD and 4.0 seconds with Dual-Motor AWD. This estimated time may vary depending on the tire selection and battery pack.
Rivian R1T offers a maximum towing capacity of 11,000 lbs. You can use R1T to tow camping trailers, boats or other equipment but you need to be aware the battery depletes quickly.
Towing test conducted by Car and Driver resulted in a range drop to 110 miles at 70mph when towing a 6100 lbs double-axled camping trailer by the Rivian R1T.
Rivian R1T Adventure Package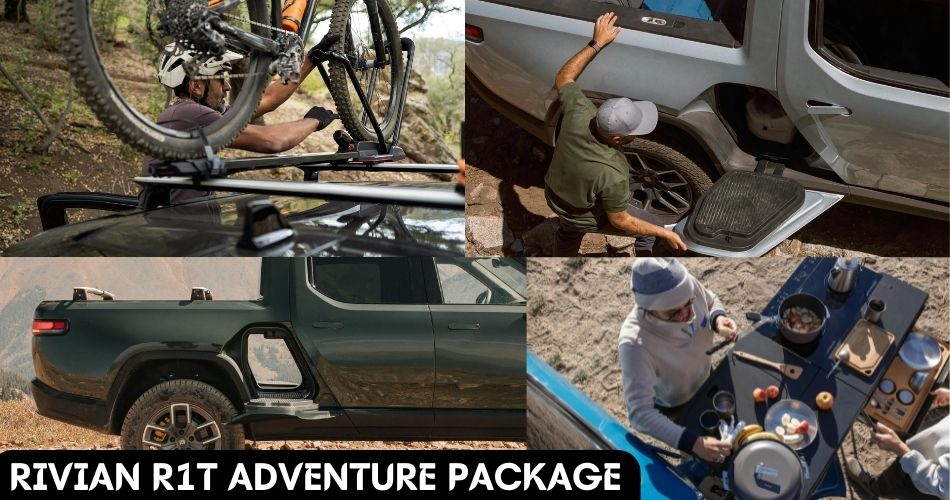 The main attraction of the Rivian R1T is its adventure capability. Adventurous R1T owners can carry adventure gear and camping kitchens easily. Besides, there is enough storage space along with a truck bed and gear tunnel.
Rivian R1T Camping Setup
R1T is the best all-electric pickup truck for camping purposes. The truck offers more than 62 cubic feet of storage between the bed, front trunk, rear storage bin, under-seat compartments, center console, and gear tunnel.
You will get a bed length of 83.9 inches with the R1T tailgate that uses a unique gooseneck hinge mechanism. The truck also offers two 120V outlets and an air compressor.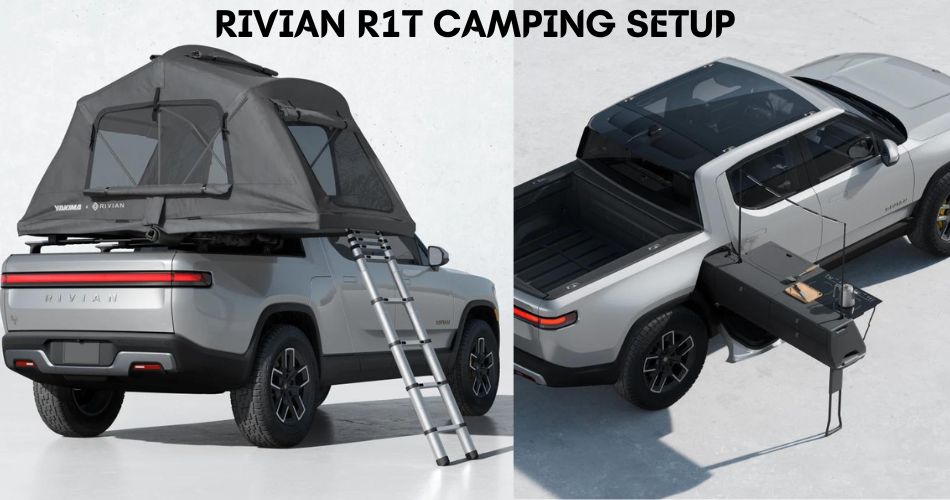 The Gear Tunnel is one of the cool features of the R1T as it offers an additional storage capacity of 11 cu ft. The tunnel is accessible via side doors and can hold up to 250 lbs weight. You can keep your stuff, gears, muddy trail shoes, ski boots and anything inside the tunnel.
Rivian R1T Truck Equipped with a Kitchen
Your camping setup with Rivian R1T looks complete with the Camp Kitchen Setup. R1T can be equipped with a Camp Kitchen that slides in and out of the Gear Tunnel. You can prepare your meals wherever you are with the magic of outdoor cooking offered by R1T.
The camp kitchen features a two-burner induction cooktop that heats food quickly and is windproof. The capacity of the induction cooktop is 1,440 watts. The kitchen setup also holds a 4-gallon water tank, collapsible sink, pump, and spray faucet.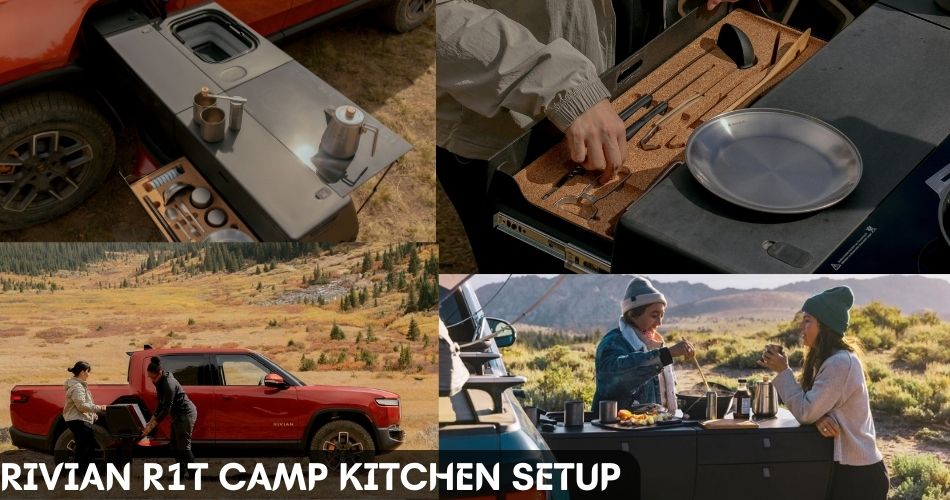 If you are worried about the cooking essentials, you will get full cookware set from Snow Peak including a water kettle, coffee grinder, flatware, insulated mugs, a 3-piece nonstick cook set, and preparation tools.
Rivian R1T Specifications
| | |
| --- | --- |
| TECHNICAL DETAILS | SPECIFICATIONS |
| Battery Pack | Standard, Large, and Max Pack |
| Drivetrain | All-Wheel Drive (AWD) |
| Electric Motor | Dual-Motor and Quad-Motor |
| Acceleration (0-60 mph) | 3.0 seconds (Quad-Motor)4.0 seconds (Dual-Motor) |
| Towing Capacity | Up to 11,000 lbs |
| Wading Depth | 3+ ft |
| Driving Modes | 8 Modes (Four for the road and four for when it ends) |
| Roof | Panoramic |
| Seating | Vegan Leather |
| Audio | Rivian Elevation |
| Data Capabilities | LTE and Wi-Fi |
| Storage Capacity | 62 cu ft |
| Seating Capacity | 5 |
| Onboard Outlets | 4 (120v) and 3 (12V) |
| Tonneau Cover | Lockable |
| Cameras | 11 |
| Radars | 5 |
| Ultrasonic Sensors | 12 |
| Field of Vision | 360º |
| Maximum Height (with antenna) | 78.2 inches |
| Length | 217.1 inches |
| Wheelbase | 135.8 inches |
| Width (Side Mirrors Folded) | 81.8 inches |
Rivian R1T Price
The price of Rivian R1T starts at US$73,000 and increases further depending on the customization and additional features.
For instance, if you select your Rivian R1T with Dual-motor AWD, large pack battery, and Forest Green paint, the total cost would be US$83,250.
The overall price fluctuates depending on the installation of gears, selection of interior, wheels and tires type, camping packages, and so on. 
Rivian R1T Adventure Package Price
R1T owners can customize the vehicle with Camping Packages including Rivian Camp Kitchen x Snow Peak, Three-Person Tent + Cargo Crossbars, Reinforced Underbody Shield, Tow Hooks, Rivian x MAXTRAX Recovery Boards, and various other kits.
| | |
| --- | --- |
| CAMPING/ADVENTURE ESSENTIALS | PRICE |
| Rivian Camp Kitchen x Snow Peak | $6,750 |
| Three-person Tent+Cargo Crossbars | $3,100 |
| Reinforced Underbody Shield | $2,000 |
| Tow Hooks | Included with Package |
| Rivian x MAXTRAX Recovery Boards | $500 per pair |
| Full-size spare 20" All-terrain Tire | $900 |
Rivian R1T Release Date
Customers can place a fully-refundable deposit to book or reserve a Rivian R1T. As promised by the company, deliveries for new reservations will begin in late 2023.
Conclusion
Rivian R1T is the world's first all-electric adventure vehicle and has lots of features to offer. If you are planning to purchase an electric pickup truck, R1T could be one of the best choices.
Tesla Cybertruck, Ford F-150 Lightning, Hummer EV, Silverado EV, and Ram Rebel TRX are some of the top competitors of Rivian R1T.