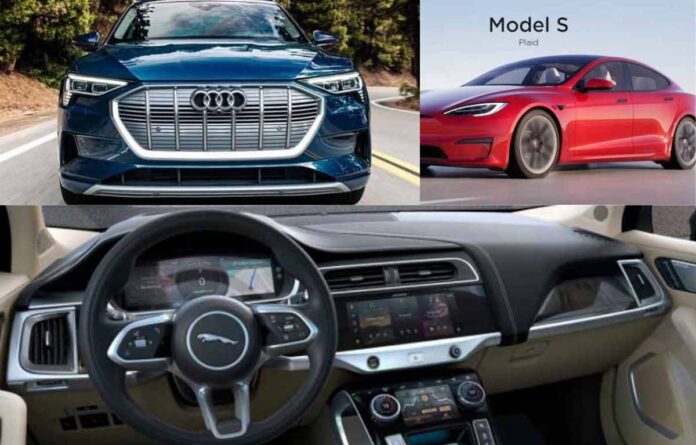 Electric cars are the vehicles of the future!
With the majority of car manufacturers moving towards the production of full-electric, and hybrid models, electric vehicles will soon replace the gas variants.
When it comes to electric cars, we focus on battery power, performance, and range.
The manufacturing companies declare the estimated range of their electric models however, the range may increase or decrease slightly.
So, in this article, we will oversee the top 15 Electric Vehicles with the Longest Range capacity in the year 2022.
Top 15 Electric Vehicles with Longest Range
2021 Volvo XC40 Recharge (208 miles)
The 2021 Volvo XC 40 is a fully electric compact SUV that is introduced for modern urban requirements. The SUV comes with best-in-class navigation, a charging planner, and Google built-in features.
The compact electric SUV comes with a battery capacity of 78 kWh which on a full charge offers an estimated range of up to 208 miles.
The XC 40 offers smart storage space to store your accessories like water bottles, laptops, mobile phones, gym bags, take-away food, and much more.
The safety features of the Volvo XC40 include a 360-degree parking view with four cameras, intelligent safety assistance technology to prevent collisions, and reverse assistance.
Other key features include Google Assistant, Google Maps, Google Play, Volvo Cars app remote services, and wireless phone charger.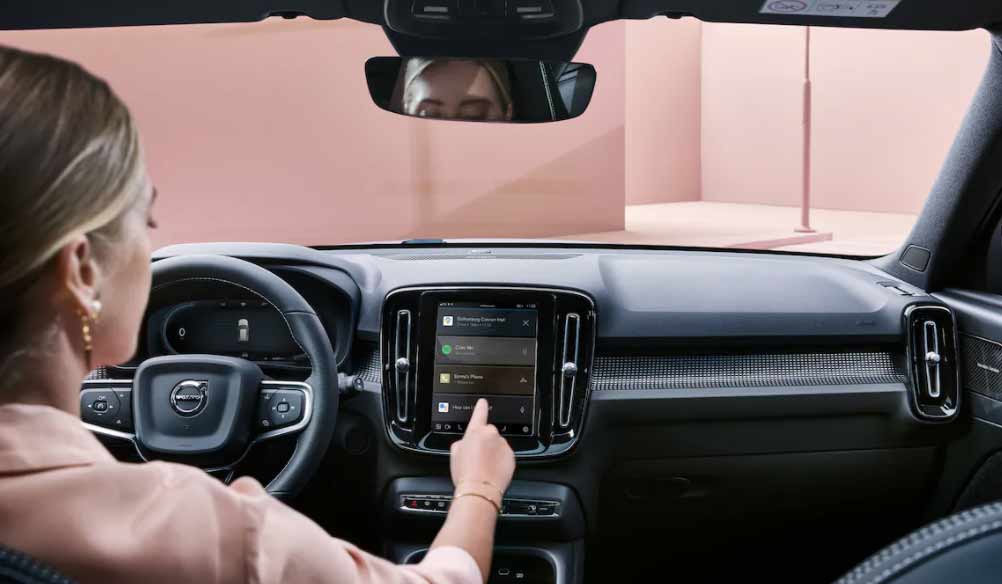 | | |
| --- | --- |
| Battery | 78 kWh |
| Power | 402 hp |
| Estimated Range | 208 miles |
| Price | $53,990 (Base Price) |
2021 Audi E-tron (222 miles)
The Audi E-Tron is the first electric SUV built with Audi DNA. This SUV is introduced with long-range capability and exhilarating performance with Quattro all-wheel drive.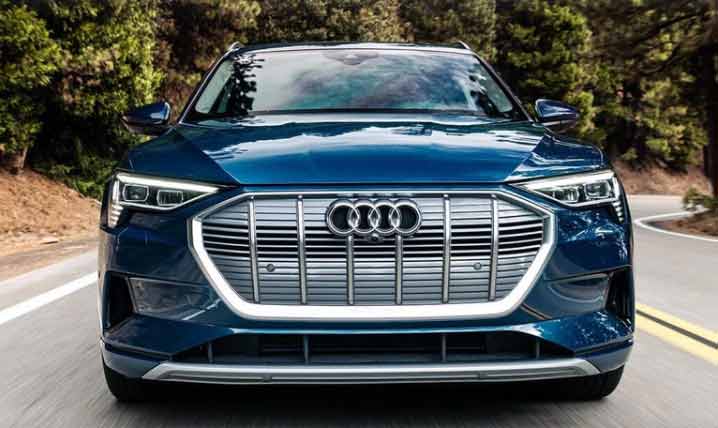 The E-Tron produces a power of 402 hp/300 kW with boost technology and as per the estimate, it takes almost 5.5 seconds to accelerate from 0 to 60 mph. The boost feature is introduced to offer additional rated power output which can be enabled with the required condition and initiation of the feature by the driver. One of the key capabilities of the SUV is towing capacity as it can tow up to a maximum of 4000 lbs.
The luxurious character of the E-Tron is presented by a premium interior that includes high-quality leather appointments, remote climate control, an optional air ionizer package, and available ventilated front seats with a massage feature.
You can easily manage various functions including navigation, entertainment, and ride dynamics with the 10.1" screen that is equipped with an Audi MMI touch response system.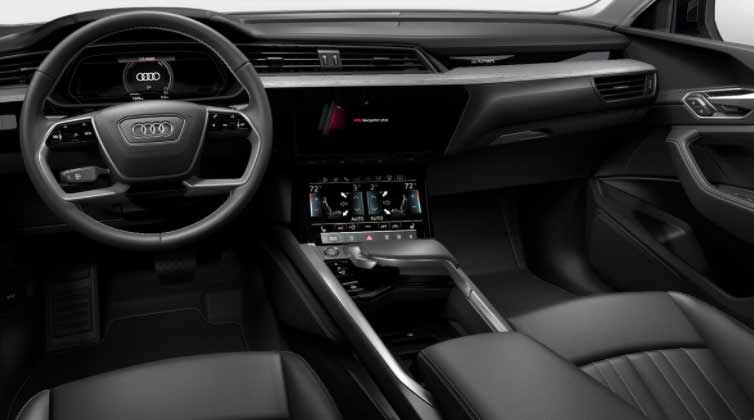 | | |
| --- | --- |
| Battery | 95 kWh |
| Power | 402 hp |
| Estimated Range | 222 miles |
| Price | Starting at $65,900 |
2021 Nissan Leaf S Plus (226 miles)
The 2021 Nissan Leaf S Plus is also a fully electric vehicle that is featured with instant acceleration, excellent range, and comfortable handling. It is equipped with Nissan Intelligent Mobility features.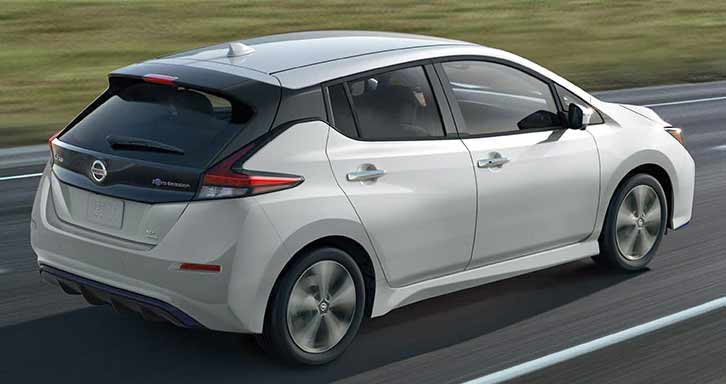 The Nissan Leaf offers fast and easy charging options and with a full charge, you can get an estimated EPA range of up to 226 miles. The electric car comes with a full suite of features like Standard Driver Assist and Convenience tech.
Customers can start their car, warm it up, cool it down, and use various other features with the most advanced monitoring application in their smartphone. The car offers a modern interior with impressive cargo space that includes fold-down rear seats.
Some of the appealing designs of the Nissan Leaf are sleek lines, a distinctive 'floating' roof design, and a unique V-Motion grille.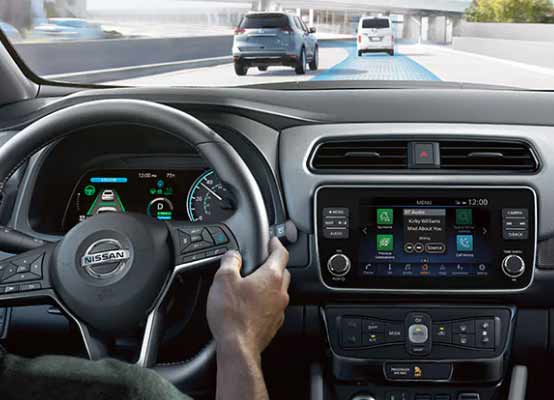 | | |
| --- | --- |
| Battery | 62 kWh |
| Power | 214 hp |
| Estimated Range | 226 miles |
| Price | Starting at $38,220 |
2021 Porsche Taycan 4S (227 miles)
The Porsche Taycan comes with striking proportions, timeless, and instantly recognizable design. It features a spacious interior, and dual luggage compartments and provides convenience and comfort to four passengers.

The Taycan 4S is available in two variants: Sport Saloon and Cross Turismo. The Cross Turismo comes with an enlarged rear luggage compartment and a more spacious interior. Besides, it is also designed to meet the adventurous requirement of the customers.
The Taycan 4S Sport Saloon provides a power of 300kW/408 PS [Overboost Power with Launch Control up to (kW)/Overboost Power with Launch Control up to (PS)] whereas the Cross Turismo offers more with 350kW/476PS power. The Sports Saloon takes 5.4 seconds to accelerate from 0-100 km/h with launch control while the Cross Turismo achieves the same in 5.1 seconds.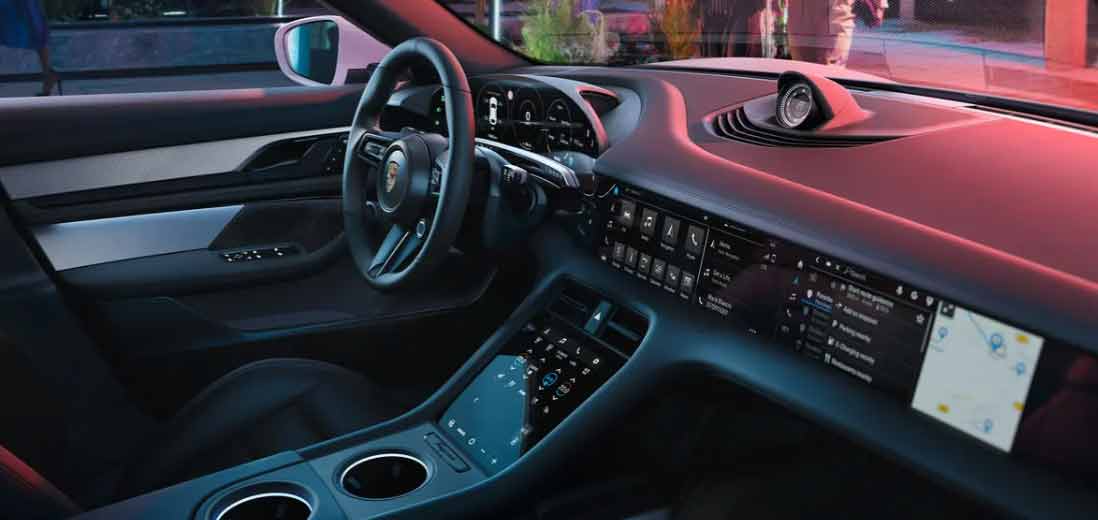 | | |
| --- | --- |
| Battery | 71 kWh |
| Power | 300kW/408 PS |
| Estimated Range | 227 miles |
| Price | Starting at $38,220 |
2021 Polestar 2 (233 miles)
The 2021 Polestar is a fully electric car that is equipped with LED headlights, and a panoramic glass roof. The full vegan interior options, reconstructed wood, and battery design reflect the innovative design.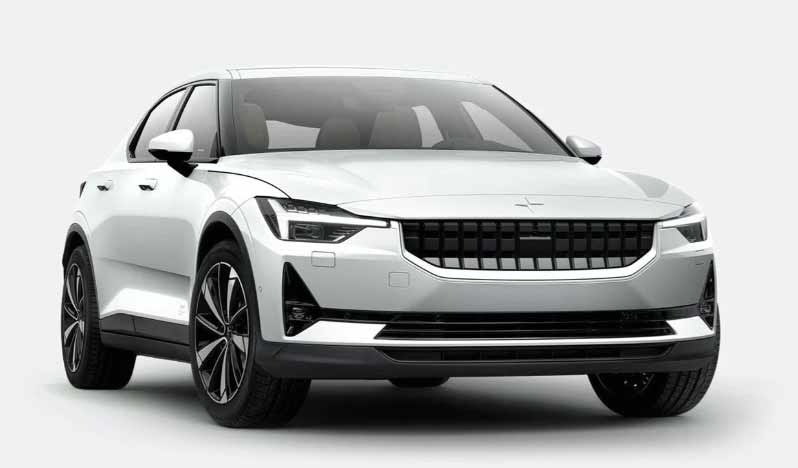 The Polestar 2 comes with dual electric motors and an enhanced battery that delivers 408 electric horses of powerful, precise performance. It also offers a towing capacity of up to 3300 lbs.
The Polestar 2 can be charged at home and with the full charge, it offers an estimated range of 233 miles. There are almost 114,000 public chargers available in the United States.
This car is also equipped with safety features including AI Pilot Assist that offer 35 percent increased torsional stiffness, and assistive emergency braking.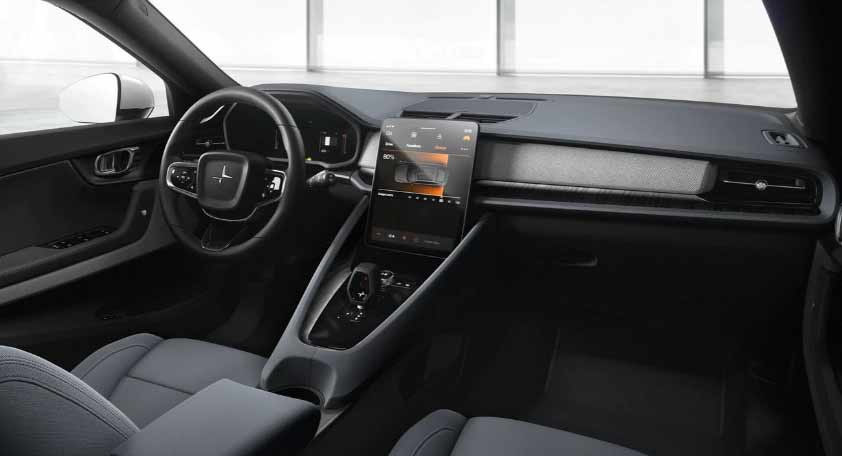 | | |
| --- | --- |
| Battery | 78 kWh |
| Power | 408 hp |
| Estimated Range | 233 miles |
| Price | Starting at $59,900 |
2021 Kia Niro EV (239 miles)
The Kia Niro EV tiger-nose front grille​ is surrounded by standard projector-beam headlights, fog lights, and chevron-shaped LED Daytime Running Lights. The Niro EV is the electric revolution with an EPA-estimated 239-mile range, and all the space, comfort, and versatility from a crossover.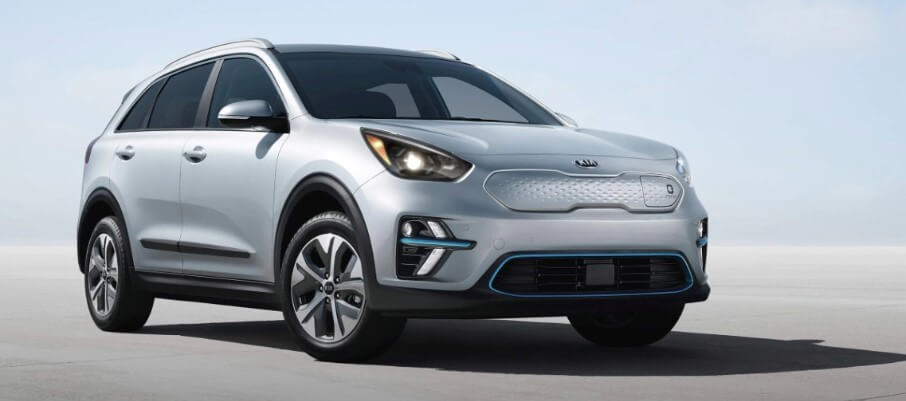 High-end design meets high-tech, as Niro EV-specific gauge modes display energy flow, charge status, and other important vehicle information. The Niro EV has a combined system output of 201 horsepower and 291-pound feet of torque. A high-density, lithium-ion polymer 64 kWh battery packs enough power for longer trips and packs unobtrusively under the rear floorboards to retain a spacious cabin.
The interesting features of the Kia Niro EV are the available 10.25-inch customizable screen, available interior mood lighting, and standard drivers' seat lumbar control.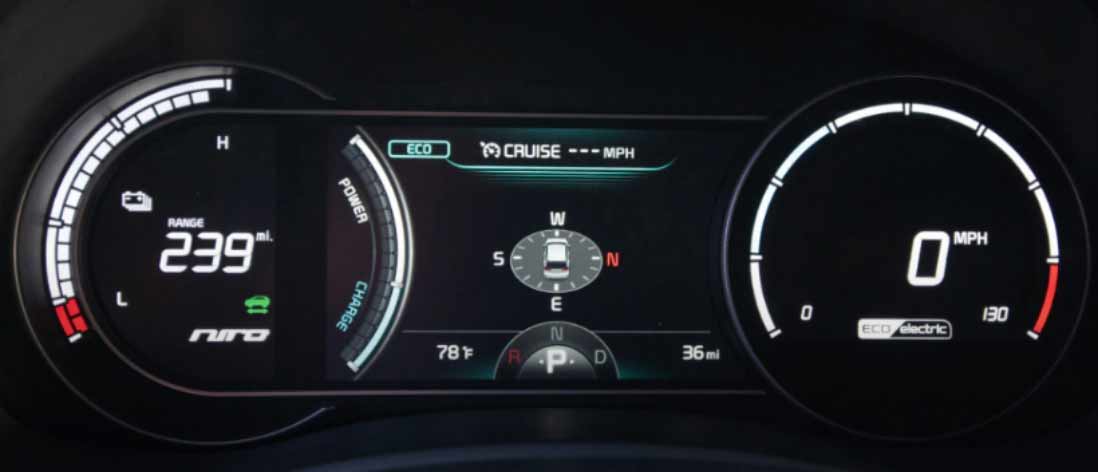 | | |
| --- | --- |
| Battery | 64 kWh |
| Power | 201 hp |
| Estimated Range | 239 miles |
| Price | Starting at $28,390 |
2021 Hyundai Kona Electric (258 miles)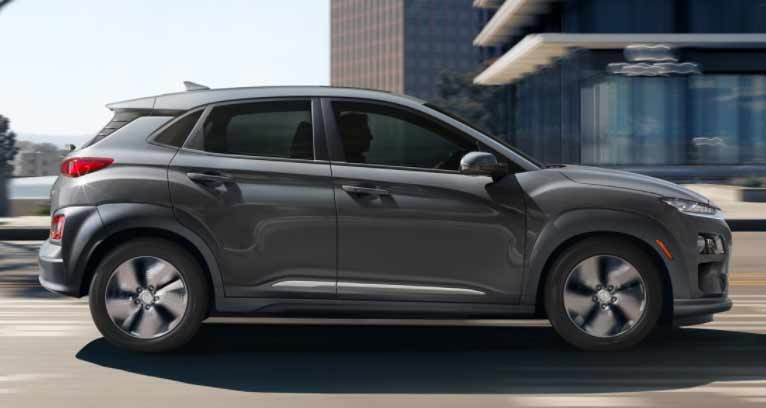 The KONA Electric, the uncompromising newcomer that combines bold, roomy SUV with an impressive electric driving range. In the front, the sleek closed grille proudly announces its electric powertrain and together with the characteristic KONA full-LED twin headlights, create a true one-of-a-kind look. A compact SUV that delivers excellent interior roominess. The All-New KONA Electric is designed to fit everything you and your busy life can throw at it – with plenty of room for both passengers and cargo with a trunk capacity of 373L (VDA).
The KONA elective offers excellent efficiency and innovation of an all-electric vehicle as it is powered by a high-capacity lithium-ion polymer battery system. It also resembles the rugged styling, ride height, and versatility of an SUV.
The SUV is equipped with a 10.25-inch touchscreen that displays important information and allows you to interact easily. Besides, the available Heads-up Display feature slides up into your line of sight when you want it. With that, you can keep track of navigation, audio, and driving information without having to take your eyes off the road.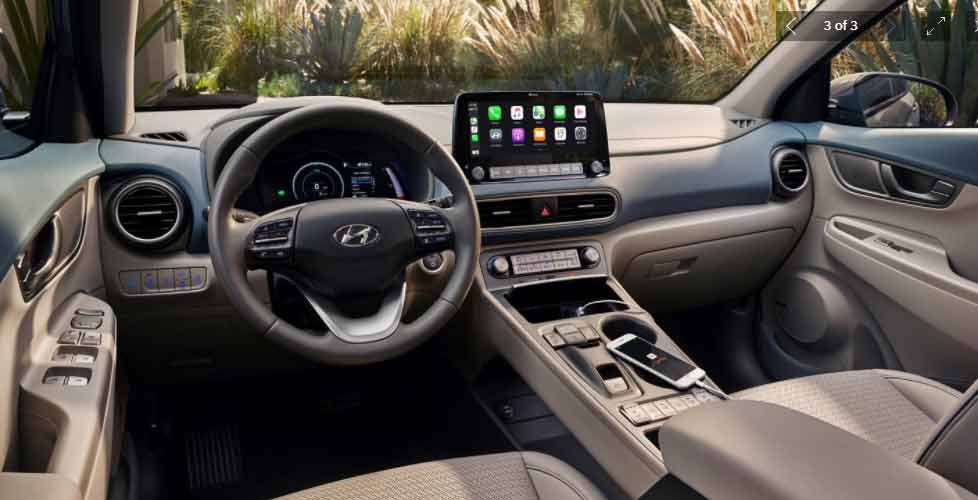 | | |
| --- | --- |
| Battery | 64 kWh |
| Power | 201 hp |
| Estimated Range | 258 miles |
| Price | Starting at $37,190 |
2021 Chevrolet Bolt EV (259 miles)
The 2021 Chevrolet Bolt EV comes with simple, convenient charging, and fewer maintenance features and captivates auto enthusiasts with its impressive design, appealing style, spacious interior, and powerful acceleration.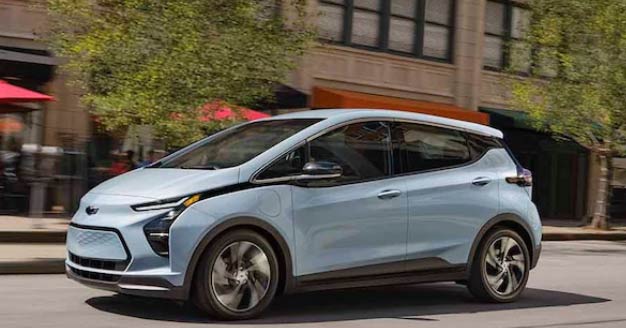 The Bolt EV takes just 6.5 seconds for 0 to 60 and offers impressive power with 266 lb.-ft. of near-instant electric torque. The available 240-volt charging unit allows you to plug in at home after your da and get a full charge by morning. With a full charge, the Bolt EV offers an estimated range of 259 miles.
The Driver Display Screen collects important information like driving behaviors, road conditions, and weather. With this information, the Bolt EV informs the impact of such a situation in the range.
The connectivity features include Apple CarPlay compatibility, Android Auto compatibility, Available myChevrolet Mobile App, and available Wi-Fi hotspot.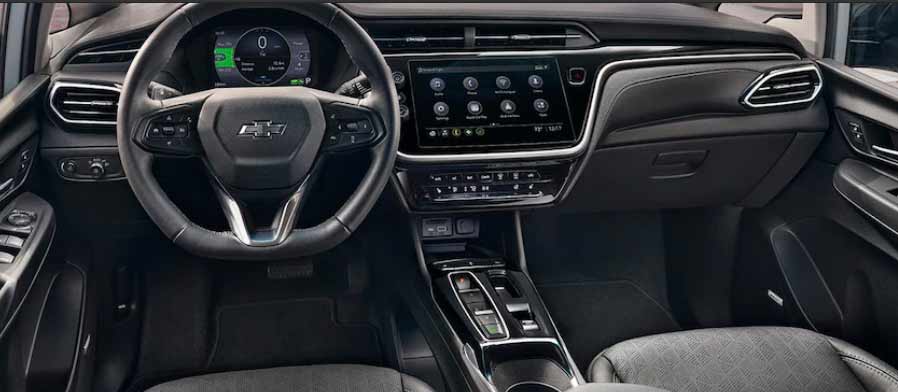 | | |
| --- | --- |
| Battery | 66 kWh |
| Power | 201 hp |
| Estimated Range | 259 miles |
| Price | Starting at $36,500 |
2021 Volkswagen ID.4 (260 miles)
The 2021 Volkswagen ID.4 is an electric SUV that comes with a clean aerodynamic line to make a striking presence on the road. The key feature of this SUV is its spacious interior and comfortable cabin space.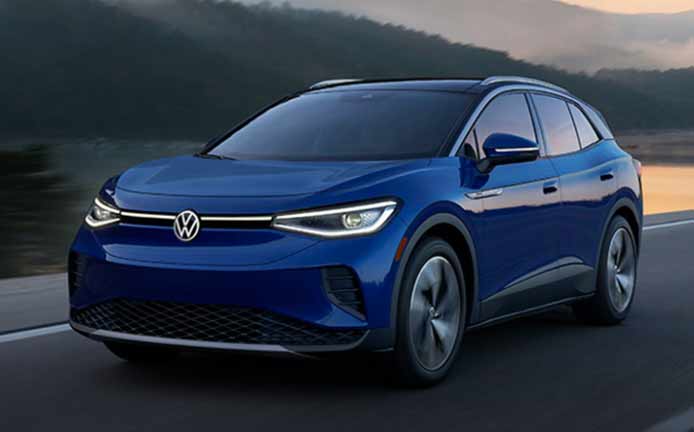 The Volkswagen ID.4 SUV was voted 2021 World car of the year by a jury of 93 distinguished international journalists from 28 different countries. The SUV is featured with state-of-the-art tech and sleek interior design.
The SUV offers enough room for four passengers with a legroom of 37.6 inches in the rear, and available 64.2 cu ft of cargo space with the rear seats folded down. The EPA estimated range of the ID.4 is 260 miles while this number will vary with all other versions.
The available all-wheel-drive (AWD) feature in the ID.4 EV offers more traction which means you get a second electric motor at the front wheels–giving you quicker acceleration and intelligent handling that distributes all that power where it's needed most.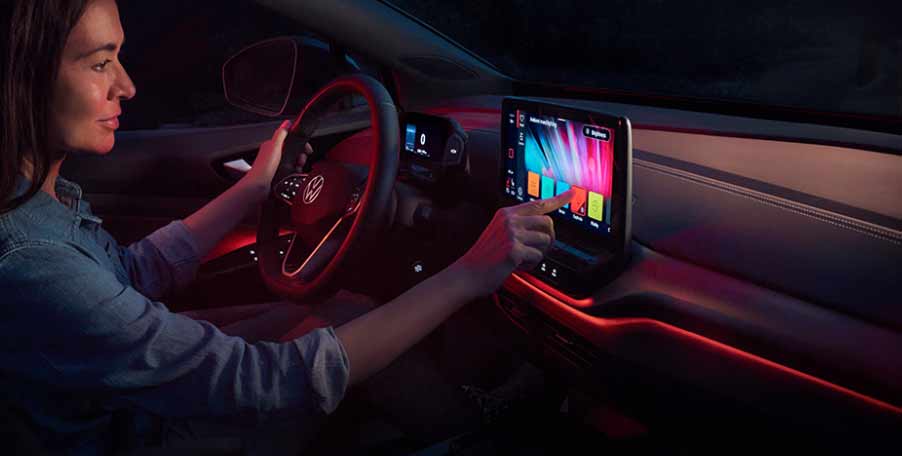 | | |
| --- | --- |
| Battery | 52 kWh |
| Power | 168 hp |
| Estimated Range | 260 miles |
| Price | Starting at $39,995 |
2021 Jaguar I-Pace (292 miles)
The Jaguar I-Pace is the first electric car manufactured by the company. This powerful car comes with an elegant, highly aerodynamic design with a low drag coefficient of 0.29CD. Being an electric car, the I-Pace offers excellent range and optimum stability by slicing cleanly through the air.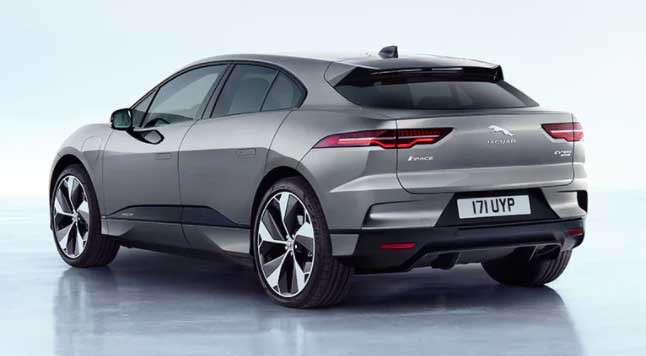 The car looks exciting from every angle due to its flowing waistline, dramatic bonnet scoop, and signature rear haunches.
The I-Pace provides excellent power and performance with its dual permanent magnet synchronous electric motors that deliver a maximum power of 400PS an instant torque of 696Nm for sports car agility. With this powertrain, the I-Pace reaches 100km/h (60mph) in just 4.8 seconds.
The luxurious interior design of the I-Pace is clean and uncluttered and designed with sweeping lines, and tactile features. The car seamlessly integrates technology and abundant space. In addition, it offers extra space for enhancing comfortability.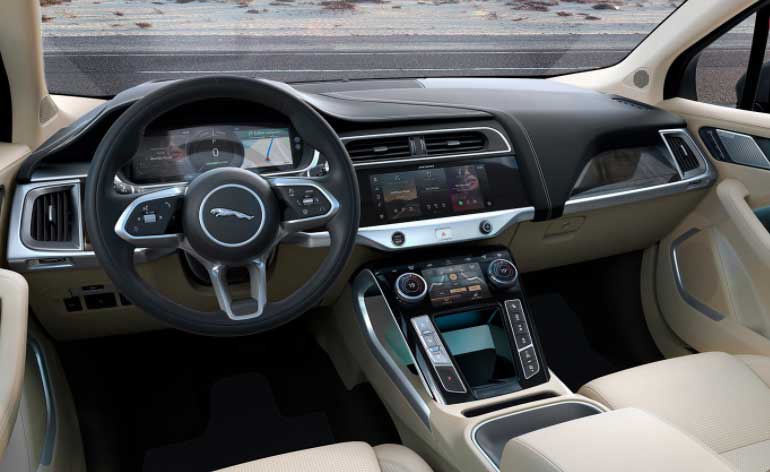 | | |
| --- | --- |
| Battery | 90 kWh |
| Power | 400PS |
| Estimated Range | 292 miles |
| Price | Starting at $69,900 |
2021 Ford Mustang Mach-E (305 miles)
The 2021 Ford Mustang Mach-E is awarded as the 2021 North American Utility Vehicle of the year. It is built from all the passion of its iconic heritage. This SUV with Auto High-Beam Headlamps and signature lighting is also listed in the IIHS Top Safety Pick for the year 2021.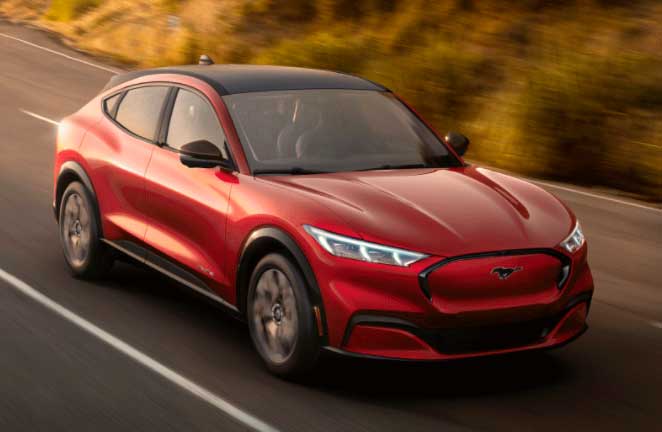 The Mach-E SUV is introduced with an iconic design paired with luxurious materials. It comes with standard driver-assist technologies which resemble features of systems like Ford Co-Pilot360 2.0.
The Ford Mustang Mach-E comes in four different models including Select, California Route 1, Premium, and GT. The powertrain, performance, and features of the Mach-E electric SUV are different with these variants.
About the power, the extended range of the Select model offers 266 hp with rear-wheel drive (RWD) and electric all-wheel drive (eAWD) features. Likewise, the extended range of California Route 1 provides a power of 290 hp with an RWD powertrain. The premium model comes with both extended and standard ranges. The available power with extended range is 290 hp with RWD and 346 hp with eAWD while the standard range offers a power of 266 hp with RWD/eAWD. The GT model comes only with an extended range and offers a power of 480 hp with eAWD powertrain.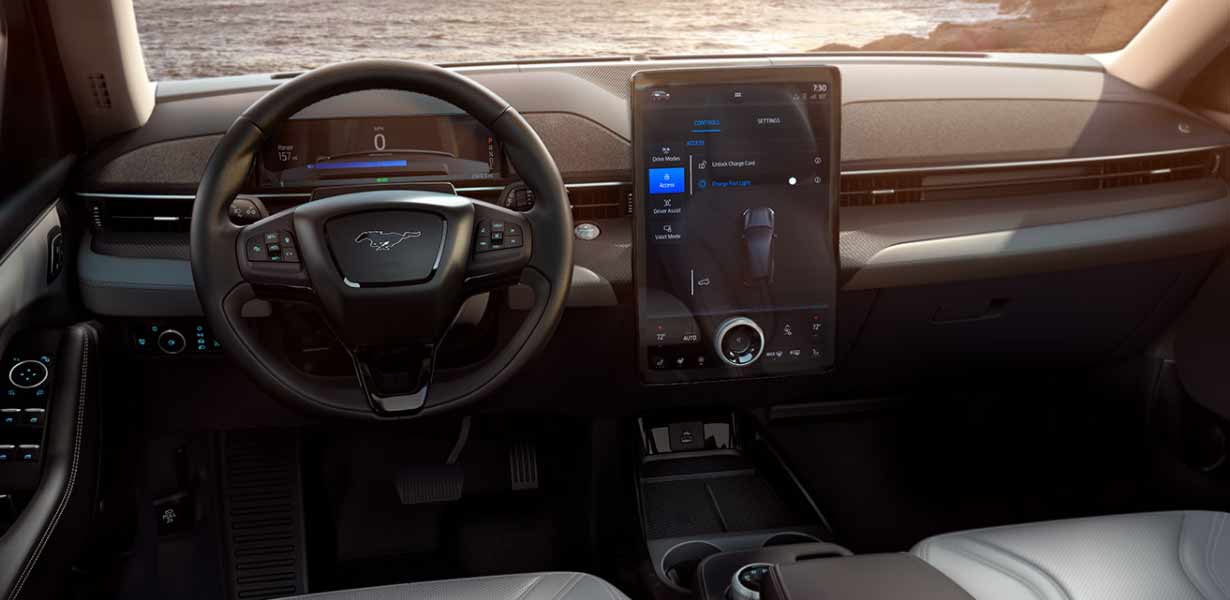 | | |
| --- | --- |
| Battery | 75.7 kWh |
| Power | 266 hp |
| Estimated Range | 305 miles |
| Price | Starting at $42,895 |
2021 Tesla Model Y (326 miles)
The Tesla Model Y is an all-electric mid-sized SUV designed to be the safest vehicle in its class. The SUV is built with a low center of gravity, rigid body structure, and large crumple zones. It carries a total of seven-passenger and their cargo.
Charging a Tesla Model Y is convenient as you can charge overnight at home and get a full battery every morning. The estimated range with the full battery power is 326 miles.
Besides, you can charge your Model Y at any public station or with the Tesla charging network. As per the company estimate, you get a range of almost 162 miles with 15 minutes of supercharging. Tesla holds over 25,000 superchargers worldwide.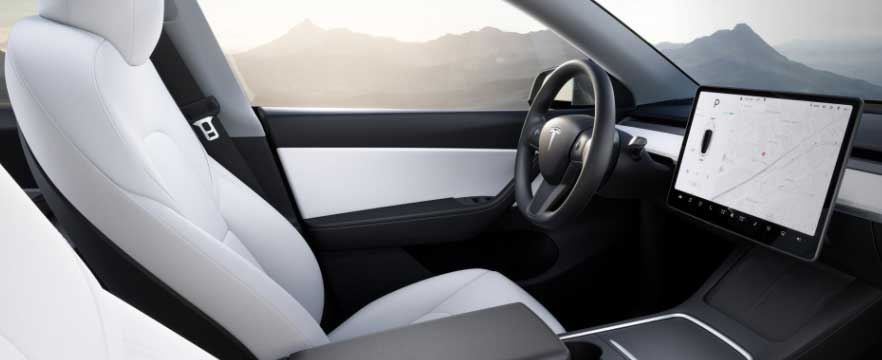 | | |
| --- | --- |
| Battery | 75 kWh |
| Power | 283 hp |
| Estimated Range | 326 miles |
| Price | Starting at $41,190 |
2021 Tesla Model X (340 miles)
The 2021 Tesla Model X SUV succeeds with its falcon rear doors and strikes with its long-range battery capacity. The Model X Tesla's biggest car, handling is surprisingly nimble for electric SUVs that provide all-wheel drive and performance-car acceleration. The added practicality of the Model X's optional third row of seats should appeal to family-oriented buyers.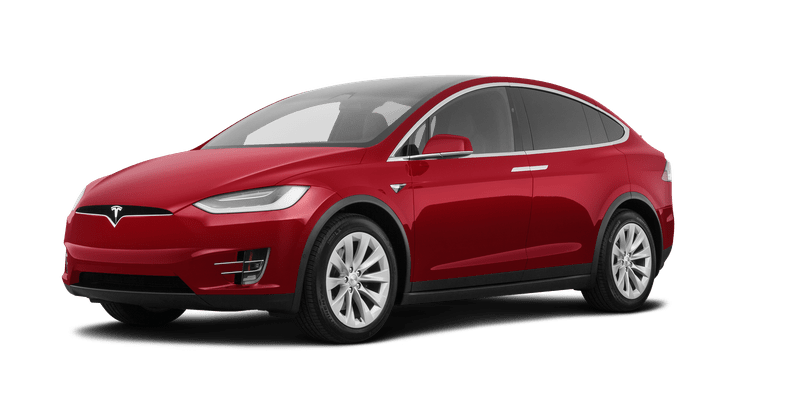 Like other Tesla models, the Model X is equipped with high-tech infotainment and driver-assistance features, and the cabin is stylish and comfortable. The Model X's signature features one with the Falcon doors they are, able to open in 11 inches of space, with sensors to prevent knocks against pillars or squeezing children. It's 4WD and seats up to seven people, but it's hardly a conventional SUV.
Both variants of Long-Range and Plaid platforms unite powertrain and battery technologies for unrivaled performance, range, and efficiency. New module and pack thermal architecture allows faster charging and gives more power and strength in all conditions.
The Long Range Tesla Model X comes standard with two electric motors one at the front axle and one at the rear which enables all-wheel-drive capability. This setup is a lot fast and makes 670 horsepower; Tesla claims a 0 to 60mph time of 3.8 seconds. The three-motor Plaid high-performance variant claimed a 0 to 60mph time of 2.5 seconds.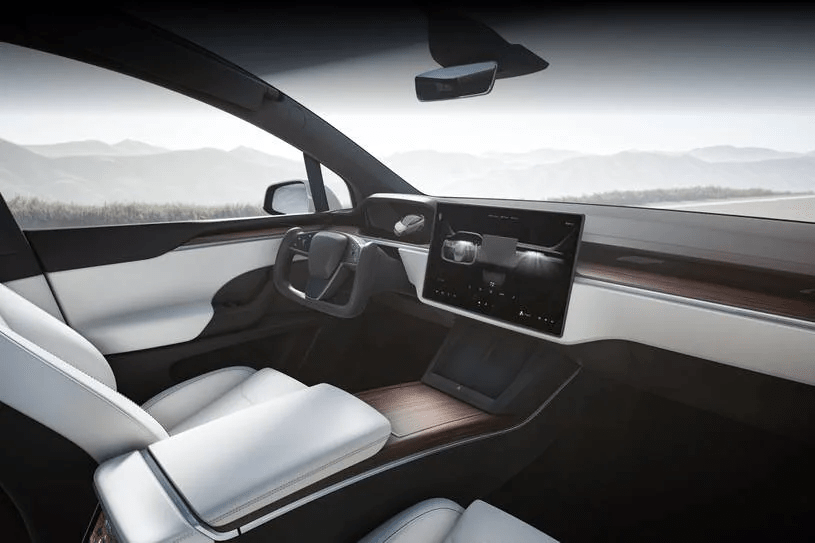 | | |
| --- | --- |
| Battery | 100 kWh |
| Power | 259-503 hp |
| Estimated Range | 340 miles |
| Price | Starting at $79,990 |
2021 Tesla Model 3 (353 miles)
The 2021 Tesla Model 3 is one of the most popular and affordable electric vehicles in the international automobile market. The Model 3 is specially built for offering greater safety and powerful performance. It inherits some styling and designs from the Tesla Model X SUV and Tesla Model S Sedan.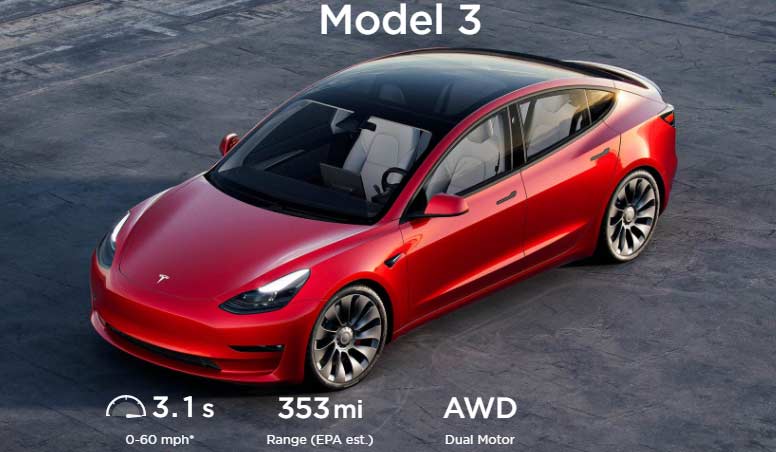 The 2021 Tesla Model 3 achieved a 5-star safety rating from National Highway Traffic Safety Administration (NHTSA) in every category and subcategory. This was possible with the car's energy absorbent crash structure, incredible side impact protection, rigid passenger compartment, and one of the lowest rollover risks of any sedan on the road.
The 2021 Tesla Model 3 is fully electric and it gets charged overnight at home. Besides, customers can charge their Model 3 at any public station of the Tesla charging network. The Tesla company currently has over 25,000 supercharges worldwide and is adding six new locations every week. The Tesla supercharger station allows you to recharge your Model 3 for 175 miles range within 15 minutes.
As per the company's claim, you can travel as far as 353 miles with a single full charge on the 2021 Tesla Model 3.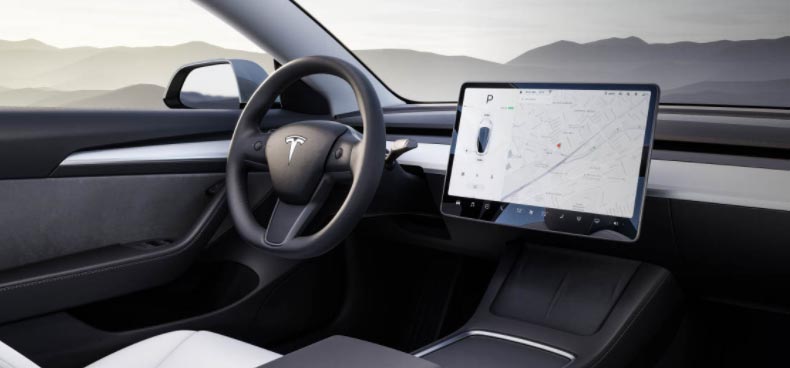 | | |
| --- | --- |
| Battery | 75 kWh |
| Power | 220 hp |
| Estimated Range | 353 miles |
| Price | Starting at $35,000 |
2021 Tesla Model S (390 miles)
The Tesla Model S is the best luxury vehicle equipped with various interesting features. Model S Plaid is the highest performing sedan ever built with the longest range and quickest acceleration of any electric vehicle in production.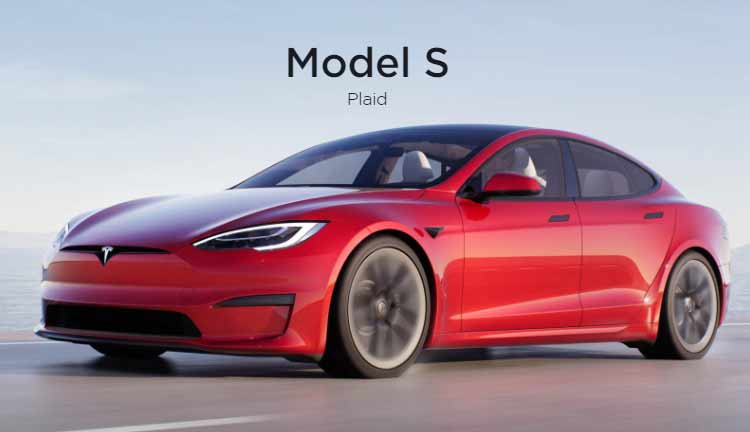 The Long Range and Plaid models offer unrivaled performance, range, and efficiency. New module and pack thermal architecture allows faster charging and provides more power and endurance in all driving conditions.
The Long Range Model is powered by a dual-motor all-wheel-drive powertrain that produces a peak power of 670hp and offers a range of up to 405 miles. On the other hand, the Plaid model is powered by a tri-motor all-wheel-drive platform that generates a peak power of 1020 hp and offers a range of up to 390 miles.
The Tesla Model S comes with autopilot features that enable your car to steer, accelerate and brake automatically within its lane under your active supervision, assisting with the most burdensome parts of driving.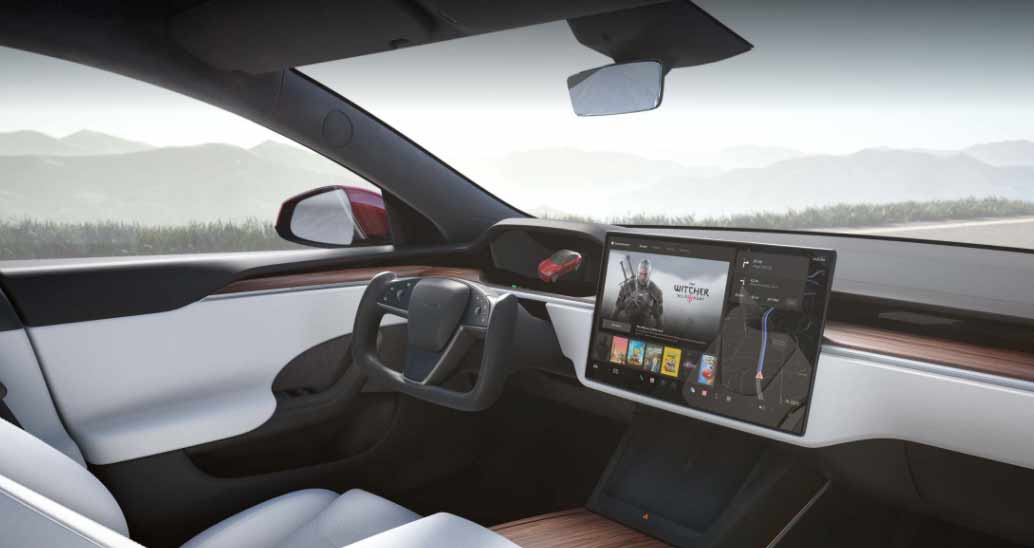 | | |
| --- | --- |
| Battery | 100 kWh |
| Power | 670 hp |
| Estimated Range | 390 miles |
| Price | Starting at $79,990 |